Looking for a simple syrup recipe that you can add to your favorite drinks? Look no further! This delicious syrup only takes 3 simple ingredients and a is packed with peppermint flavor.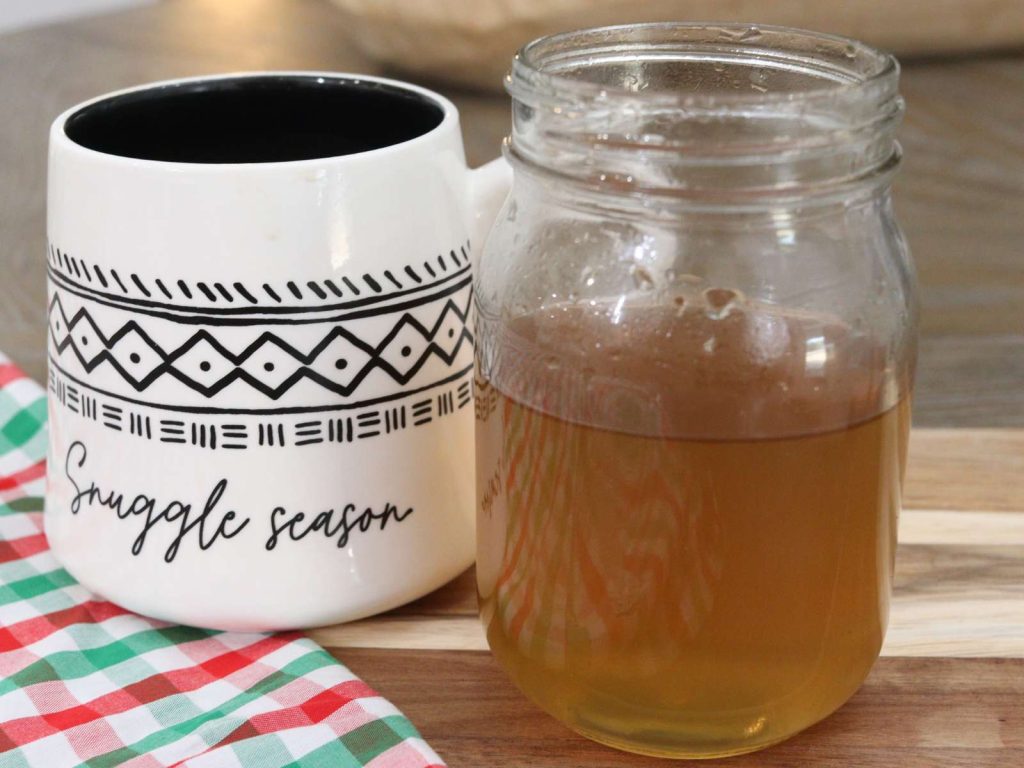 One of my favorite parts of the holiday season are the scents and flavors. Something about pumpkin spice and cinnamon and peppermint just add to the coziness of the season for me.
In past seasons, I've depended on my local coffee shop to provide me with my favorite peppermint drinks.
But now that I've nailed down a recipe to easily make my own homemade peppermint syrup, I can have all of the peppermint lattes or hot chocolates that I want right at home.
And I don't even have to wait for the Winter season. I can have peppermint-flavored drinks any time of the year.
Affiliate Disclosure: This post may contain affiliate links. As an Amazon Associate, this means that I will earn a small commission if you choose to purchase through my links. This is at no extra cost to you!
​Homemade Peppermint Syrup Recipe Ingredients
Water
​Cane Sugar – I like to use organic cane sugar, however you could also use regular granulated sugar. A 1:1 Monk Fruit sweetener like this may way for a sugar-free option, although I haven't personally tried it. If you do, let me know how it turns out!
Peppermint Extract
This is also a great homemade gift for the coffee lover in your life! If you want more gift ideas, check out my full blown DIY holiday gift guide here.
Is homemade flavored syrup better for you?
Anytime you make something homemade, you have better control over the ingredients. Store bought creamers or syrups can be loaded with preservatives, high fructose corn syrup, and vegetable oil. When you make homemade syrups, you know exactly what goes into them. So, in my opinion, making your own peppermint syrup is better for you.
A lot of times, it ends up saving you money as well. With an easy recipe like this, that use simple ingredients you can use over and over, you're going to end up paying way less per drink than you would at your local Starbucks.
How to Make a Bottle of Peppermint Syrup
In a small or medium saucepan, add one cup water to one cup of granulated sugar (I like to use organic cane sugar).
Turn the stove to medium heat. Allow the mixture to come to a boil, and immediately turn the heat down to simmer. Let the mixture simmer for 2-3 minutes while the sugar dissolves, stirring continuously.
​Turn the heat off, and add in your pure peppermint extract. Stir for another minute or so.
Allow the syrup to cool before transferring to your glass jar.
How to Store Homemade Coffee Syrup
​Homemade coffee syrup can be stored in an airtight container in the fridge for 1-2 weeks.
When it comes to the best storage containers, I like to use a glass mason jars with a reusable lid.
​These glass bottles are also perfect for storing homemade syrups – and they would look great in a gift basket!
How to Use Peppermint Flavored Syrup
This sweet peppermint syrup can be used in a variety of drinks. It's the perfect additional to hot drinks or cold drinks.
Just make your favorite beverage as you normally would – but instead of sweetener, add in a tablespoon of syrup (or two!).
​Some of my favorite ways to use this syrup are:
Peppermint hot tea
Peppermint latte
Iced peppermint coffee
Peppermint hot chocolate 
Be sure to check out this recipe for a healthier homemade peppermint coffee creamer, too!
Simple Homemade Peppermint Syrup
Use this easy peppermint syrup recipe to make your favorite peppermint flavored drinks.
Equipment
1 mason jar or other glass bottle with lid

small saucepan

spoon

measuring spoons/cups
Ingredients
1

cup

water

1

cup

granulated sugar

1

tsp

peppermint syrup
Instructions
In a small saucepan, combine the water and sugar over medium heat.

Bring the mixture to a boil. Reduce heat to simmer and allow to simmer for 3-4 minutes, until the sugar is dissolved.

Add in the peppermint extract. Allow to simmer another couple of minutes to allow the flavors to come together.

Remove from heat. Allow to cool and transfer to glass storage container.
Notes
*Add as much or as little syrup as you like to your brewed drinks. 
*Store in the fridge for 5 days. Shake syrup before each use.
*I use organic cane sugar in my syrup, but any granulated sugar should work.
*As a sugar free peppermint syrup option, you could try granulated monk fruit.