Are you looking for free weekday printable calendar templates? These blank calendar printables are available as an instant download and can be printed as many times as you need!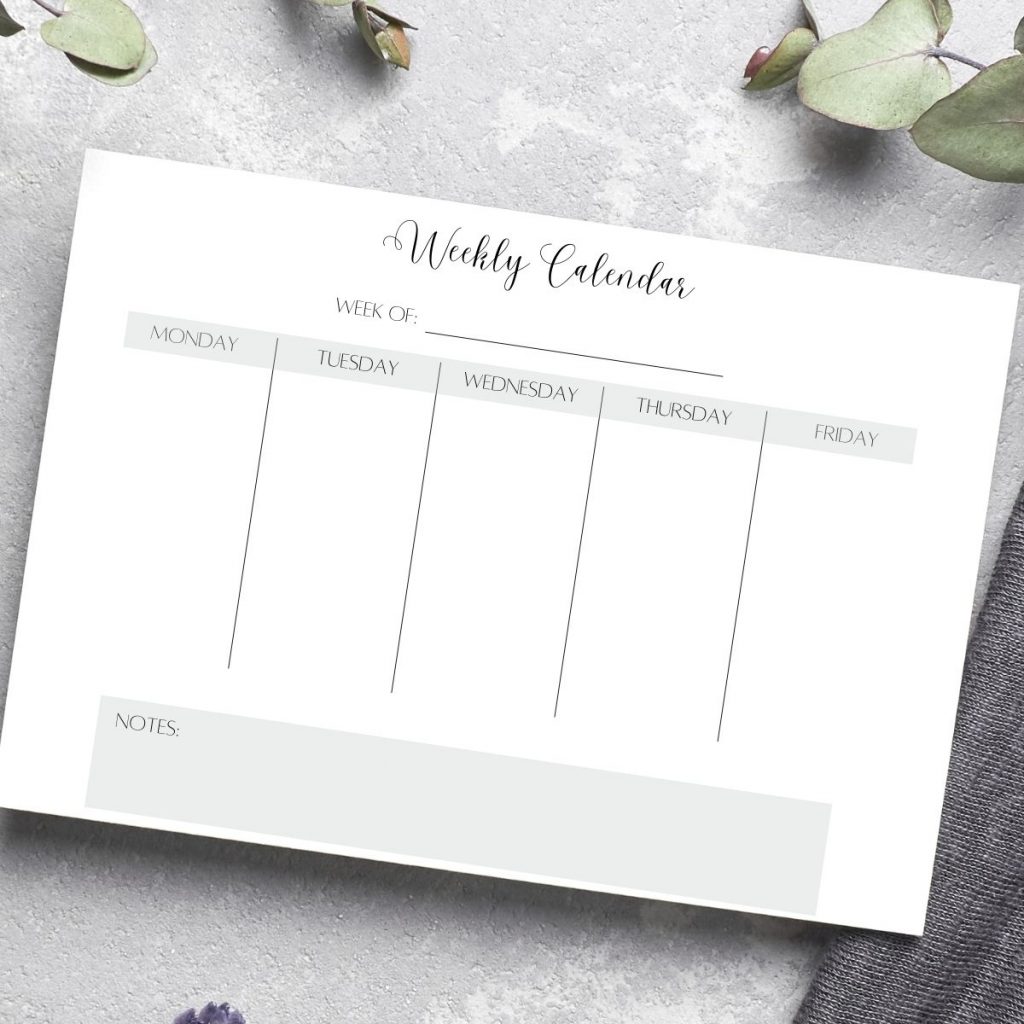 (Affiliate Disclosure – This post may contain affiliate links. As an Amazon Associate this means I will earn a small commission if you chose to purchase through my links. This is at no extra cost to you!)
I love planners. They are the easiest way for me to stay on track and have a productive day. I track everything in my planner – from meal planning, to homeschooling, to cleaning schedules…it's all kept organized in my planner. Honestly, I don't understand how anyone stays on track without one…I would be lost!
But finding the perfect calendar layout can be hard when you're buying planners.
One of the things I've noticed is that I often times need a little more space for my weekdays vs. the weekends. During the week is when I am my busiest and have the most to do. I often times run out of space making notes during the week.
I designed these printable calendars and planner pages to cover 5 days of the week, Monday through Friday. You'll find two options for weekly calendars and two options for monthly calendars.
Printable Weekly Calendars
The Weekly Schedule Template come in two options – a horizontal and vertical calendar. The first day of the week is listed as Monday, as opposed to traditional Sunday start calendars. This Monday through Friday layout gives you additional space for planning out your weekdays.
A weekly planner layout is perfect for breaking down your daily schedule into a block schedule by writing in time slots.
(Want to know more about block scheduling? Check out this post to see how I plan at my days!)
This planner insert can also be dual purpose. Use it to break out your school schedule, as a weekly chore schedule for kids, or just as your daily planner.
Use the notes section for weekly goals or as a master list of tasks you need to get done. The full size of this printable makes it ideal for putting up on the fridge or use as a wall calendar for the whole family to reference.
Here is the vertical option. You'll print this using the standard portrait orientation.
These printables were created with a neutral color scheme so they should blend nicely with your existing monthly planner.
https://humblyrootedhome.com/wp-content/uploads/2022/06/Vertical-Monday-through-Friday-Weekly-Planner.pdf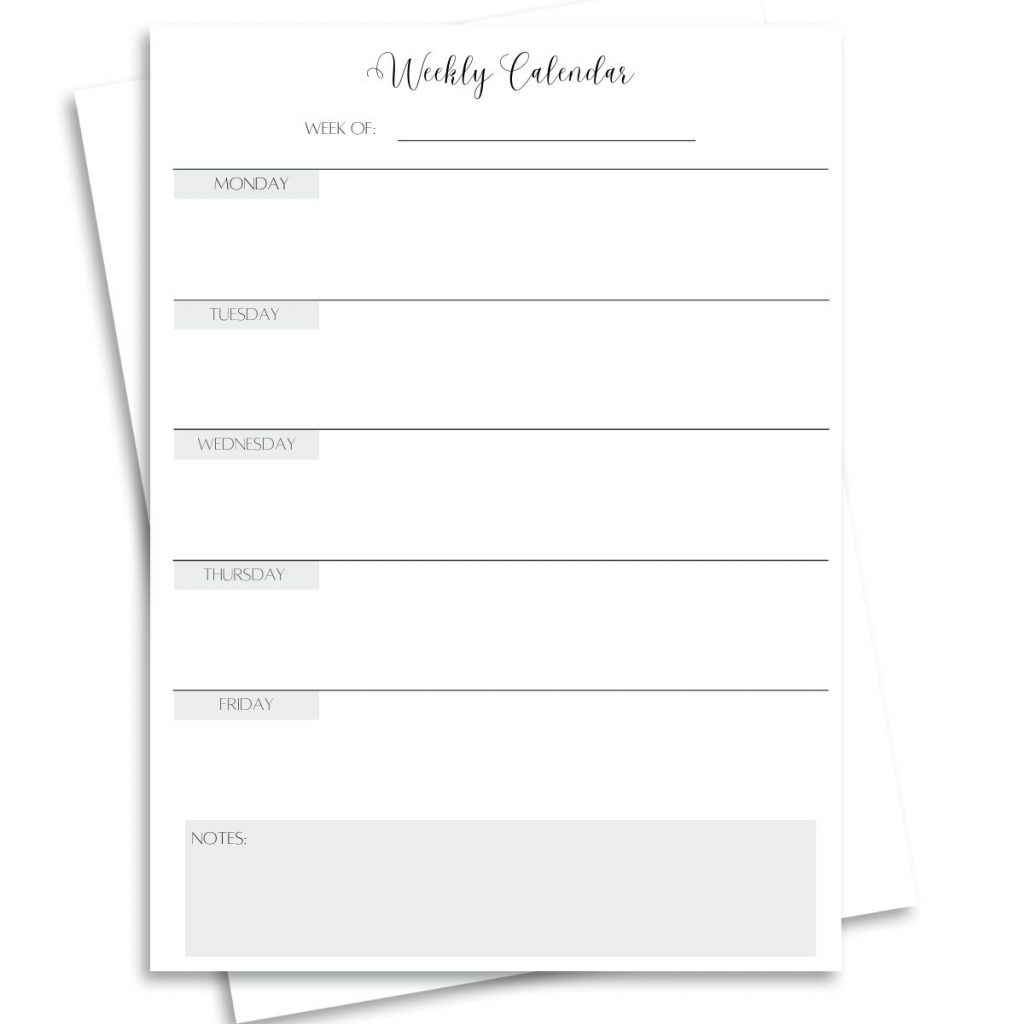 And the horizontal weekly planner option. Print this one using the landscape orientation.
https://humblyrootedhome.com/wp-content/uploads/2022/06/Horizontal-Monday-through-Friday-Weekly-Planner.pdf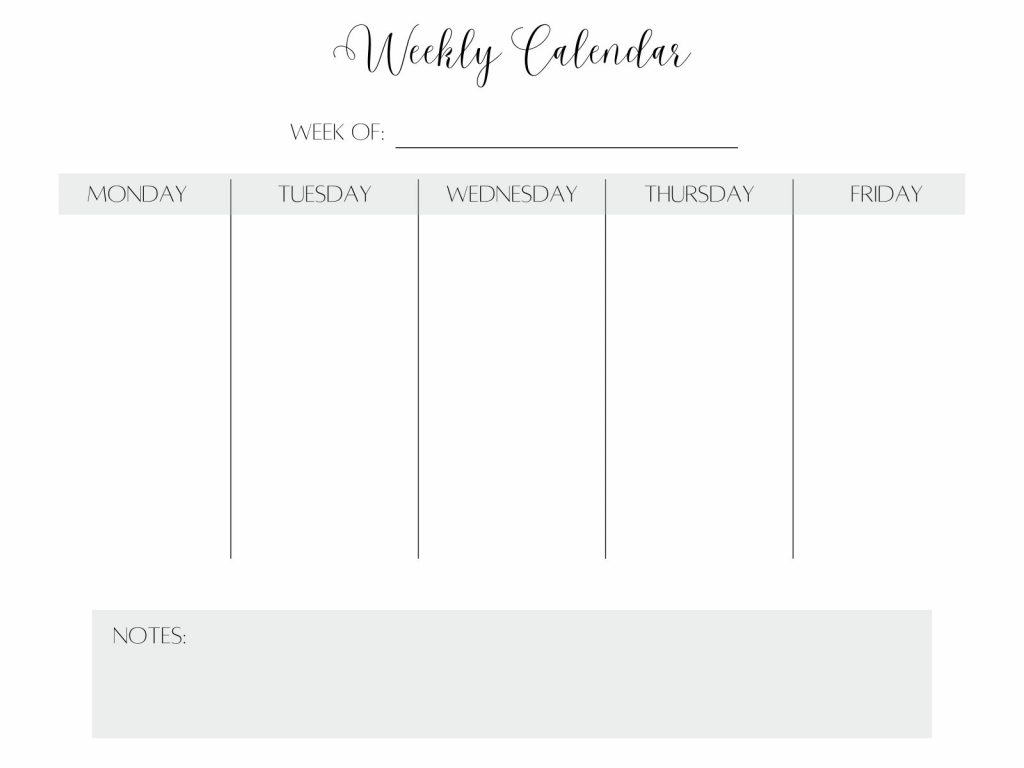 Looking for monthly calendar templates that have a Monday start date? Check out these two options below!
Blank Printable Monthly Calendar Page
This Monday through Friday monthly calendar has two options for font size and style. It is an undated calendar with a blank for the month names. There are a sufficient number of weeks to cover any month of the year on a single page.
This layout can be helpful for tracking your work schedule or upcoming events. Download your PDF file and print as many copies as you need to complete your entire year calendar!
Both fonts are included in this link.
https://humblyrootedhome.com/wp-content/uploads/2022/06/Blank-Monthly-Monday-through-Friday-Calendar.pdf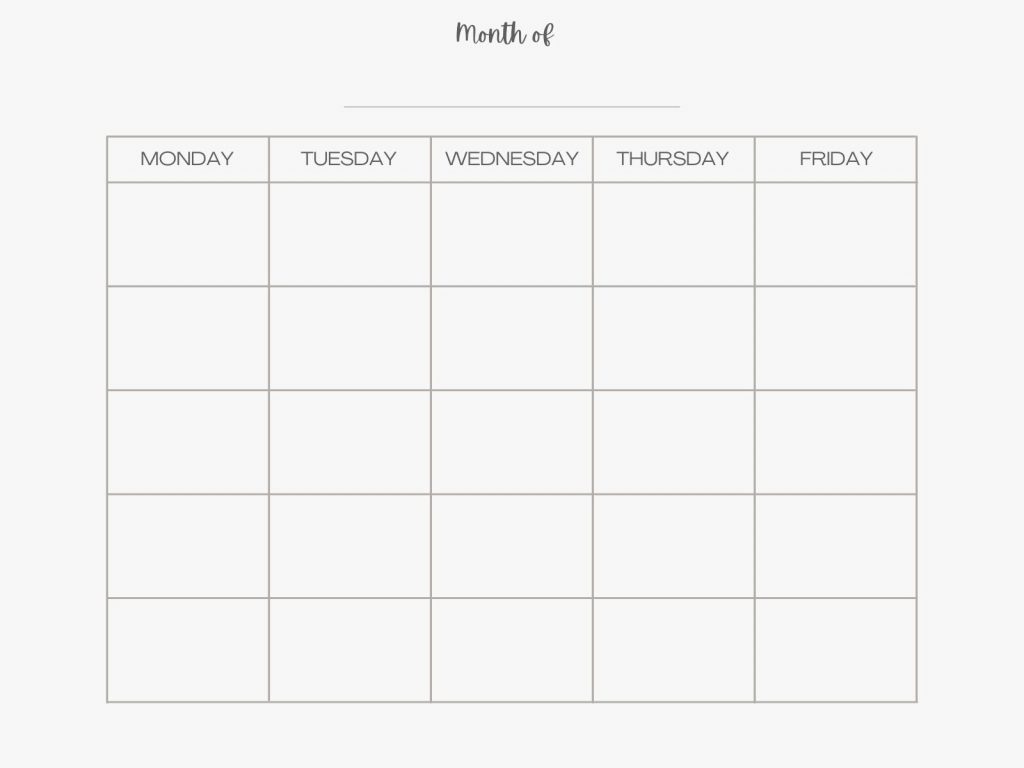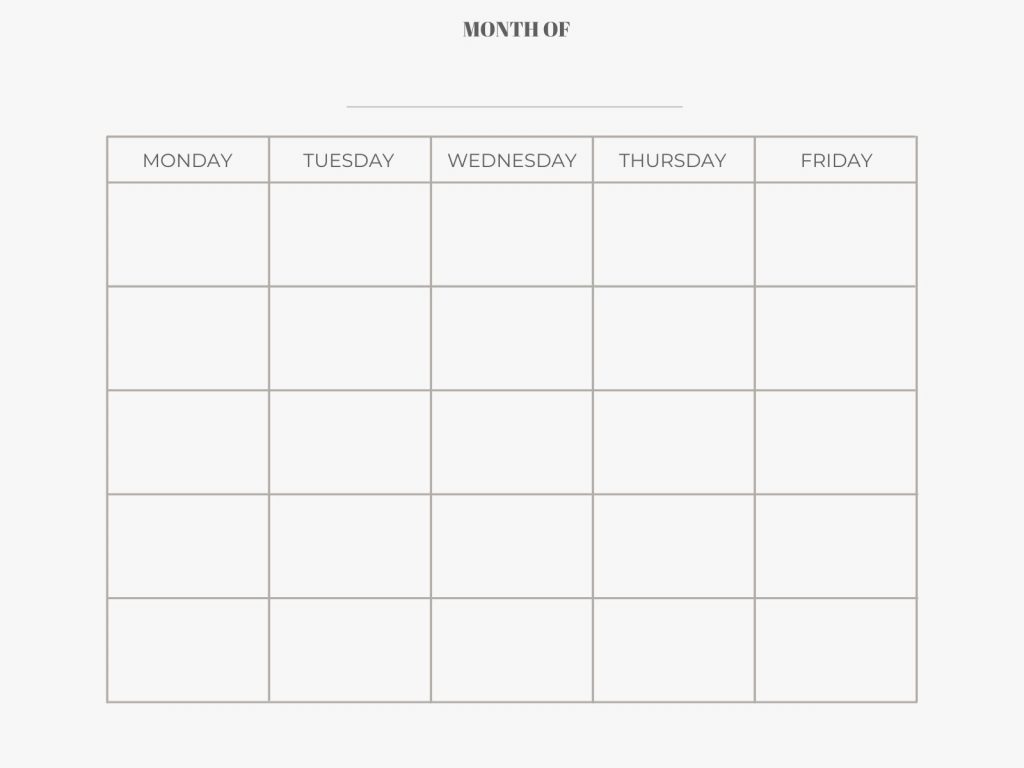 Looking for a free printable to help meal plan? Sign up for our mailing list here and I'll email you this Weekly Meal Planner printable. Use it in your planner or hang it on the fridge for the whole family to see!
How to Print
These free printable pdf calendars are designed to print on standard paper size or 8.5 X 11. First you simply click the links listed under the photos above. Then, select the correct orientation for your desired printable. Finally, print as many copies as you need!
Another option is to print one copy, place in a sheet protector, and use a dry erase marker. Then you can simply erase your weeks, and reuse the same printed page over and over.
You can also save these files to your device so that you can reprint at any time. You can also click the photo below to save to your Pinterest board!
These planner printables are for personal use only and should not be redistributed or sold.
Save these Free Printable Calendar Templates for later!
Benefits of Planning
It's not a surprise that in our fast-paced world, our lists of things we need to get done is longer than ever. That is why using a planner to gather all of our thoughts and lists in one place is so helpful.
Reduce Stress and Overwhelm
When you use a planner, or just a printable like the ones provided in this post, you are less likely to feel overwhelmed by all you need to get done. Instead of feeling like there is way too much for you to do, you can organize your tasks in to smaller, more manageable days. You are also less likely to forget to do certain things, which can just add to your stress levels.
Increase Productivity
Your productivity is also sure to increase with planning. You won't spend time wondering about what you need to work on when you have it pre-planned for you. You can have a clear plan of what needs to be worked on weekly, daily, or even hourly.
Promote Happy Thoughts
The act of accomplishing the things you plan to do can also promote positivity. You will feel accomplished when you cross that task off of your list. Even just working towards a goal or event can lead to happy thoughts and positivity.
Read more about why I block schedule my days here!
Favorite Planner Accessories!
Shop these affiliate links to purchase some of my favorite products to use with my planners.