This healthy pumpkin spice creamer recipe is full of pumpkin flavor and made from simple ingredients. Now you can enjoy flavored coffee creamer without artificial flavors and high fructose corn syrup. Be sure to check out the dairy free and sugar free creamer suggestions in this post.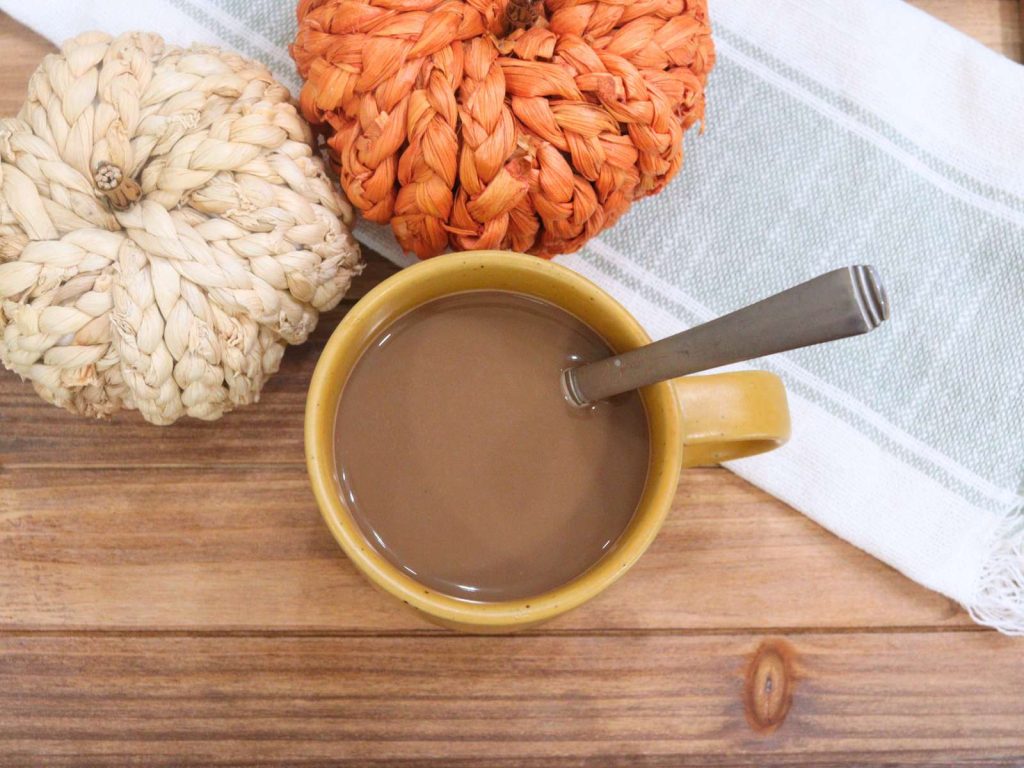 This past Fall, I discovered store-bought pumpkin spice coffee creamers.
I was picking up a new bottle weekly with my grocery order. Yes, I know – that's a lot of creamer but they tasted so good and were packed with fall flavors.
But then I found out that my delicious store bought coffee creamer that I thought was made with milk – was actually made with vegetable oil.
And if you've followed any of my recipes on my blog, you know that hydrogenated oils are something that we try to stay away from for health reasons.
So of course, I had to start experimenting with ways to make my own creamer so I could still enjoy a pumpkin spice latte at home!
Now I've found a way to make my own homemade pumpkin spice coffee creamer. It's healthier, only uses a few ingredients, and I still get to enjoy the Fall flavor I love so much!
Affiliate Disclosure: This post may contain affiliate links. As an Amazon Associate, this means that I will earn a small commission if you choose to purchase through my links. This is at no extra cost to you!
INGREDIENT LIST FOR EASY HOMEMADE PUMPKIN CREAMER
Milk Base or Dairy-Free Milk
When it comes to selecting the milk base for this creamer, I've tried several different options that work well.
Heavy cream – Heavy cream is going to yield the creamiest homemade pumpkin spice creamer. Of course, it's pretty heavy on the calorie count though, so if that's something you're paying attention to, you may want to choose a different milk base.
Milk – Regular milk works fine for this recipe as well. I've used whole milk and 2% to make this recipe with similar results.
Half and Half – this is an in between option for dairy bases. It thicker than milk but thinner than heavy cream. It's also a little lighter on the calories than heavy cream.
Oat Milk – Oat milk is a thick and creamy option for making a dairy-free pumpkin spice creamer. I also feel that oatmilk doesn't have quite as much of an aftertaste that some other non-dairy options have.
Cashew Milk – cashew milk is another great non-dairy milk if you are wanting to make a dairy-free creamer.
Almond Milk – almond milk is pretty thin and has a bit of an aftertaste, but it can definitely be used in this recipe.
Another dairy free-option that adds tons of pumpkin flavor and warm spices to your cup of coffee is this Easy Pumpkin Spice Syrup Recipe!
Real Pumpkin Puree
You are looking for 100% pure pumpkin, without any added ingredients, and not pumpkin pie filling.
Vanilla Extract
You'll just need a little splash of pure vanilla extract.
Sweetener
Sweetener is another way that you can customize this pumpkin pie coffee creamer recipe.
Pure Maple Syrup – maple syrup adds a delicious, warm flavor to this creamer. Because of the flavor and health benefits of maple syrup, it is definitely my favorite sweetener for this recipe.
Organic Cane Sugar – If you don't have maple syrup, you can always use a granulated sugar. We like organic cane sugar in our house.
Sugar free option – If you're looking for sugar-free pumpkin spice creamer, consider using granulated monk fruit or allulose in place of the sugar.
Pumpkin Pie Spice
Make your own or use a store bought pumpkin pie spice blend.
Easy Recipe for Homemade Pumpkin Pie Spice Blend
In a small mason jar with a lid or other airtight container, combine:
4 teaspoons Ground Cinnamon
2 teaspoons Ground Ginger
1 teaspoon Ground Cloves
½ teaspoon Ground Nutmeg
Hey – I see that you love seasonal flavored coffee, so be sure to check out these easy recipes for homemade peppermint coffee creamer and peppermint simple syrup!
Making Homemade Pumpkin Spice Creamer
This recipe is pretty simple to follow, but it does require you to heat the milk (or non-dairy milk) and other ingredients on the stove. This is so infuse the pumpkin flavors, dissolve the sugar, and allow the alcohol flavor to cook out of the extract.
To start, add milk base, sweetener of choice, pumpkin puree, and pumpkin spice blend to a small saucepan over low/medium heat.
Stir the mixture until the sugar is well dissolved.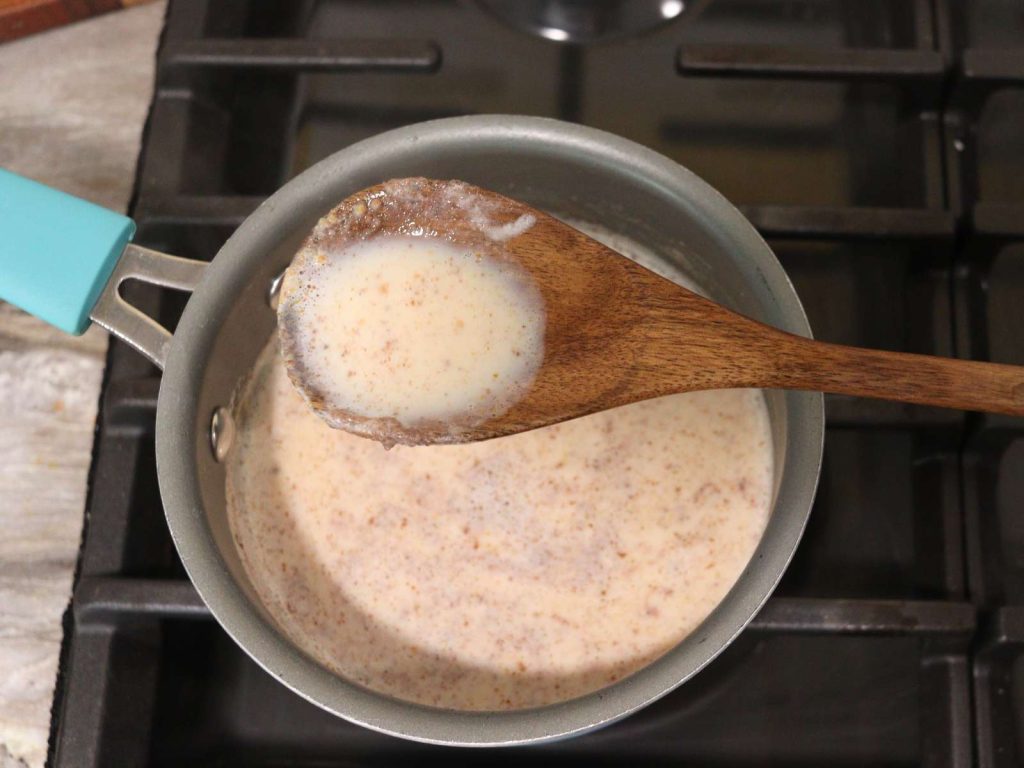 Reduce the heat to low and add in your vanilla extract. Allow the mixture to continue to steam for 3-4 minutes.
Now you'll want to strain the pumpkin bits out. To do this, I use a fine mesh strainer over a glass mason jar. I usually do this step twice.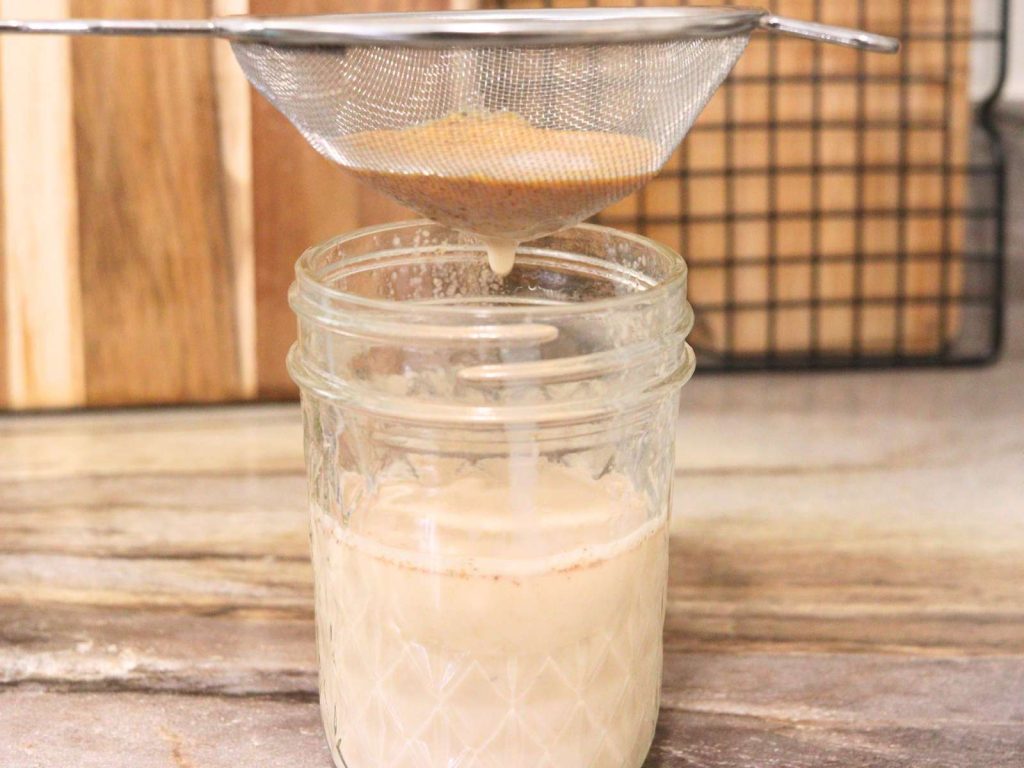 Now your creamer is ready to store! Store in a jar or bottle with a lid in the fridge for up to 5 days.
HOMEMADE COFFEE CREAMERS FAQ'S
THERE ARE BITS OF SPICE AND/OR PUMPKIN PUREE A THE BOTTOM OF MY JAR.
​Even with using a fine mesh strainer you may find small bits left behind. If this bothers you, try using a spoon to add the creamer to your coffee instead of pouring. The leftover bits settle at the bottom of the jar, so spooning it out should allow you to avoid getting those in your coffee cup.
How to make a Pumpkin Spice Latte at home:
For simple homemade lattes using this pumpkin spice creamer, you can combine:
4 oz of espresso (or strong brewed coffee if you don't have an espresso machine)
1-3 tablespoons of your prepared creamer
Cup filled with warmed frothed milk of choice, (this inepensive handheld frother is my absolute favorite!)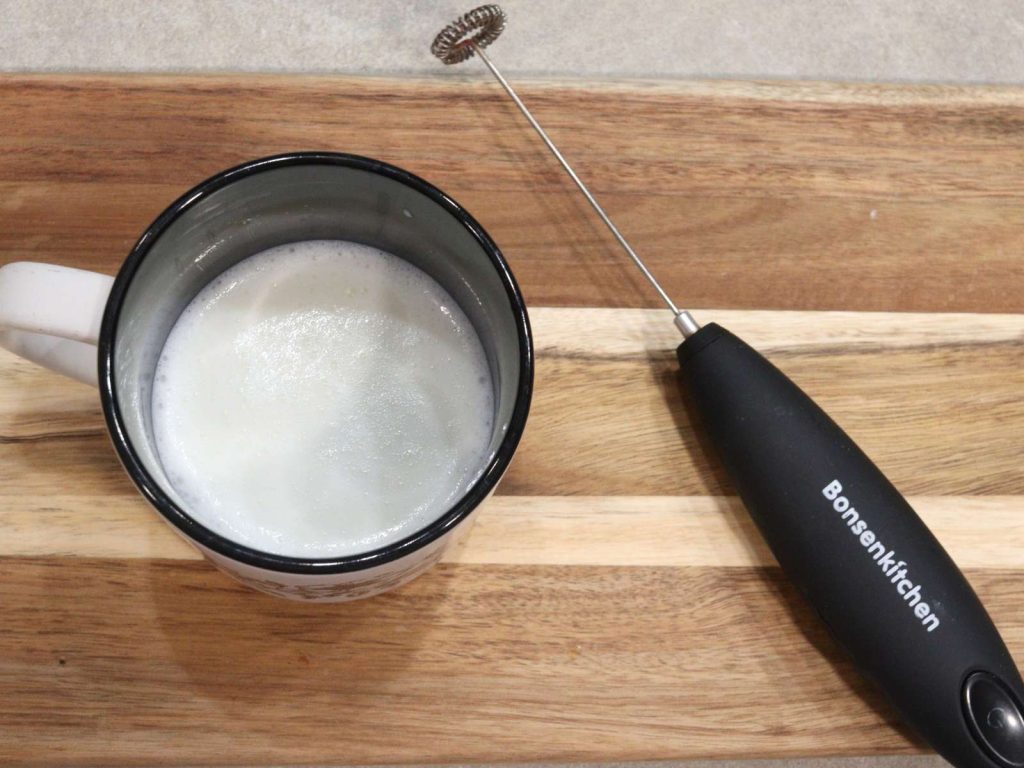 Top with a little whipped cream if you have it!
Healthier Pumpkin Spice Coffee Creamer
Use this simple recipe to customize your own homemade pumpkin spice coffee creamer! Includes suggestions for dairy free and sugar free options.
Ingredients
1

cup

heavy cream, half and half, milk or plant based milk

oat milk, almond milk, and cashew milk all work fine

1/4

cup

sweetener

maple syrup, cane sugar, or granulated monk fruit

3

tbsp

pumpkin puree

1

tsp

pumpkin pie spice

1/2

tsp

vanilla extract
Instructions
Combine milk base and sweetener of choice, pumpkin puree and pumpkin pie spice in a small saucepan over medium heat. Stir continuously until sugar is well dissolved.

Reduce heat to low and add extract. Allow to steam another 3-4 minutes.

Remove from heat and strain pumpkin puree out by using a fine mesh strainer over a glass jar.

Allow to cool slightly. Store in a jar or bottle with a lid in the fridge for 5-6 days.
Notes
See full post for how results may vary based on the various milk (and dairy free) options mentioned.
Maple syrup provides the best flavor to the creamer, but granulated sugar also yields good results.
Even with straining, you may still have little bits of pumpkin pie spice. If this bothers you, consider spooning the creamer out into your coffee instead of pouring. This should keep the settled pumpkin bits at the bottom of the jar.