Do you want to raise chickens for meat, but curious about how much it costs? This guide will lay out expected expenses, our recent cost to raise, and helpful information for those new to raising meat birds!
*Affiliate Disclosure: This post may contain affiliate links. As an Amazon associate, this means I will earn a small commission if you purchase through a link on my page. This is at no extra cost to you!*
Total Cost of Raising 30 Cornish Cross Chickens
We purchased our chickens from Hoovers Hatchery. We went in with a friend to help get the cost down (the more you order, the less the price per bird), and ordered a straight run. The price per chick was $2.52.
30 chicks X $2.52
Cost of Chicks = $75.60
For the 30 birds, we ended up purchasing 9 50 pound bags of feed total.
We purchased 5 bags of chick starter at 20% protein from a local feed store, and fed that until it ran out.
Once that was gone, we switched to a grower feed that we picked up from a different local feed store. Of the 4 bags of grower, we ended up using 3 1/2, but I'll calculate my number on the full bag.
We did not buy feed that was labeled as broiler feed, we just checked protein content. We also did not feed organic this last time, but our future plans for the Fall are to switch to all organic feed sources. This will definitely have an impact on the overall cost to raise.
The feed from our local feed store was much cheaper than what we picked up from Tractor Supply:
Chick starter = $15.95 per bag X 5 bags
Grower feed = $22.25 per bag X 4 bags
Cost of feed = $168.75
Total cost to raise and feed 30 Cornish Cross = $244.35 / $8.15 average cost per bird
We choose to skin and piece out our birds instead of freezing them whole. The result was 39.5 pounds of boneless, skinless breast meat and 41 pounds of skinless leg quarters.
This should be enough chicken for my family of 4 for the next 4-5 months!
Find out what supplies you'll need to process chickens at home!
How to Calculate Cost of Raising Meat Chickens
To get an estimate of your costs, you can calculate as follows:
Number of birds X 15 lbs of feed = (pounds of feed needed)
Pounds of feed needed X price PER POUND of feed = (total costs of feed)
(example: if a 50 lb bag is $22, $22 divided by 50 lbs = .44 per pound.)
Cost of birds X number of birds = (total costs of birds)
total costs of feed + total costs of birds = estimated expenses!
Choosing to Raise Meat Chickens
Raising your own chickens for meat is the best way to take control of what you're feeding your family. Everything from the environment they are raised in, to the food they eat, you are able to make decisions for how your birds are raised.
When my husband and I first set out to be more self-sufficient, one of the primary focuses was to have more control of our food sources.
We started first with quail and then ventured into chickens. We are already getting our own eggs from a dual-purpose breed (see my favorite backyard chicken breed here), but we quickly discovered they are may not be the best option if our goal is to stock the freezer.
So, we started looking into other breeds that may better fit our needs. We finally landed on Cornish Cross.
Chicken Breeds for Meat
The first thing you have to decide on is what type of chicken breed you will be raising.
Chickens fall in to one of 3 categories – meat bird, dual-purpose, or egg layers. For meat production, you'll be choosing between dual-purpose breeds, or a breed specifically bred for meat production.
Dual Purpose vs. Meat Chickens
A dual-purpose breed will take longer to get to butcher weight (resulting in more feed) and won't have near the amount of meat.
It will be somewhere between 12-24 weeks before these birds are ready to harvest, depending on the breed. The pro however is that you can actually hatch your own dual-purpose chicks (just ensure they are not a hybrid) eliminating the need to purchase new chicks every year to raise.
Meat chickens (sometimes referred to as broiler chickens) are a hybrid breed – meaning two different breeds have been bred together for commercial production.
These birds have a lot of meat on them and grow very rapidly. You'll be ready to harvest anywhere from 6-12 weeks of age depending on the breed.
One con to this is that some of these breeds can sometimes experience health issues due to the extremely rapid growth, especially if feed is not managed correctly. There are also restrictions on raising these birds in certain high altitudes.
Finally, since these are hybrid birds, you'll need to purchase new chicks every year from a hatchery. Breeding two hybrids together will not produce offspring of the same quality, so you are dependent on outside sources to provide your chicks.
Like I mentioned earlier, we have dual-purpose breeds on our homestead as well. I find this to be a happy medium for us. We have the ability to hatch our own chicks if needed, but we can also utilize the resource of purchasing from a hatchery.
Here's a quick list of some of the different, common breeds:
Dual-Purpose Chicken Breeds (non-hybrid)
Plymouth Rock
Orpington
Wyandotte
Australorp
Rhode Island Reds
Delaware
Meat Bird Chicken Breeds
Jumbo Cornish Cross Chicken
Red Rangers / Murray's Big Red Broiler
Freedom Rangers
Cornish Roaster
You can check-out hatchery websites as well, like Murray McMurray Hatchery – Day-Old Baby Chicks for some slow-growth broiler options.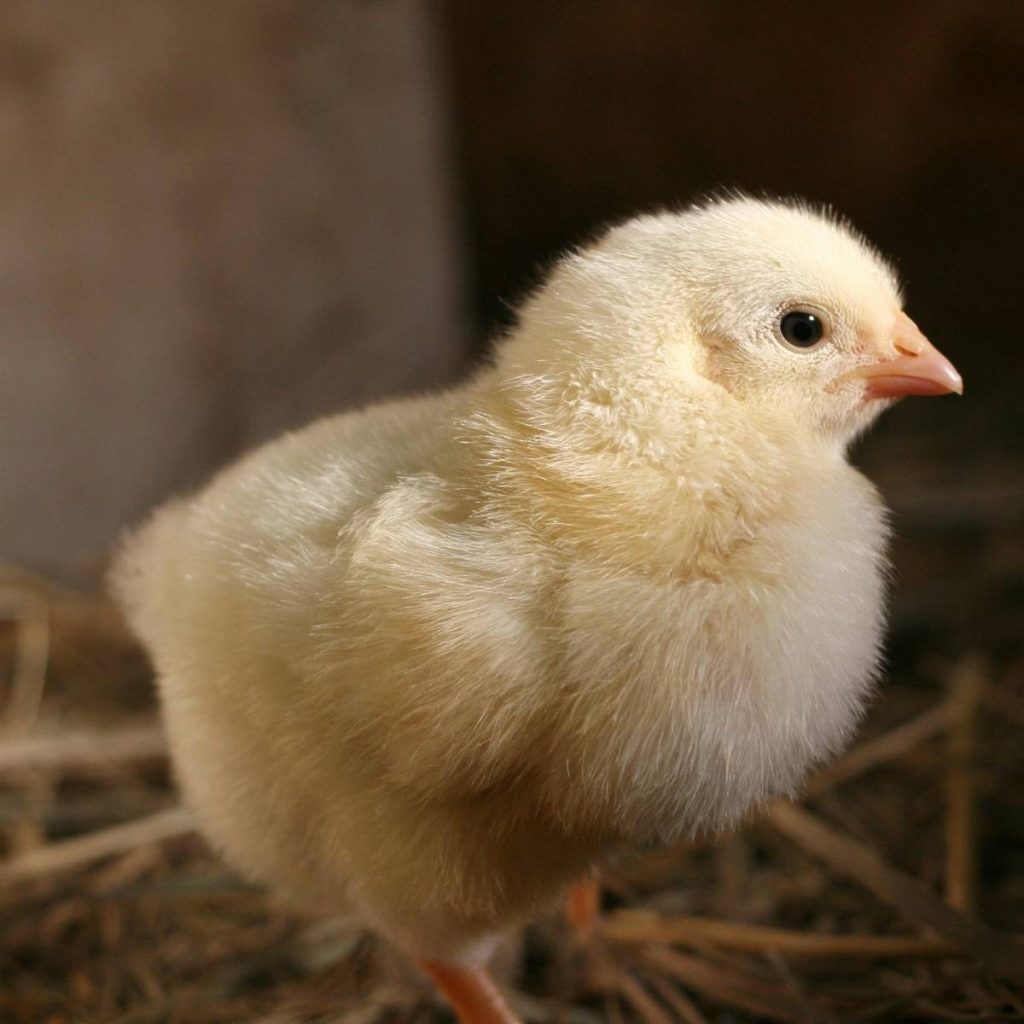 Supplies Needed for Chicks
Now that you have your breed picked out, you'll need to make sure you're ready for when those day-old chicks come in! If you've brooded chicks before, then you probably already have half of these supplies.
Brooder
Wood shavings for bedding
Heat lamp/Chicken Cooper Heater – make sure you follow safety instructions that come with your lamp/heater while brooding!
Chick starter
Supplies for Growing Chickens
You'll also want to go ahead and think about your long term housing for the chickens if this is your first year with them.
Keep in mind, meat birds grow extremely fast, so you'll want to have this figured out before you get the chicks. We've found that after a couple weeks in the brooders, they need to be moved to the chicken tractor (with supplemental heat).
You could build the birds their own coop, but honestly, I've found the chicken tractor to be the best way to raise meat birds. It allows the birds to be raised on grass, just like free-range chickens.
Also, with the rapid growth, comes lots and lots of…poop. There's no way to make it sound less gross. The chicken tractor can be moved to fresh grass daily, eliminating the need for daily cleaning (and allowing the chickens to fertilize the grass). We opted for a Joel Salatin style tractor.
Whatever option you choose, the cost of housing is going to vary greatly based on your location and cost of materials. If your budget allows, I recommend building a good quality tractor.
The good news is, after the initial cost, you won't have this cost again next year! A well-built tractor should last you for years.
Other items you'll need for the growing chickens are a full-size waterer and feeder since what you use in the brooder will probably be far too small. Meat birds eat and drink a lot so you're going to need a large waterer and feeder.
We ended up using a piece of PVC pipe cut in half to create a trough for the feeder. For the waterer, we used this 5-gallon system and needed to fill it daily.
What type of feed do meat chickens need?
Meat chickens will need a combination of a high protein starter and a grower feed in order to grow properly. You may be able to find products specifically labeled as broiler feeds. If your feed store does not carry a broiler feed, you can use your regular chick starter and grower feed, you'll just want to follow some basic protein percentage guidelines.
Murray McMurray hatchery recommends in their Q&A the following for feeding out your Cornish Cross: Murray McMurray Hatchery – Jumbo Cornish X Rock
"We recommend on the CXR you start them on a 20-23% Broiler starter, after 5 weeks switch them to a 18-20% grower finisher. We also suggest taking their food away at night starting at 10 days of age. This can cut down on any potential leg problems."
Hoover's Hatchery also has a Meat Bird Care Guide that you can find here:
Personally, we are not able to locally purchase broiler feed, so we opt for products labeled for all chickens and just check the protein percentages.
Aside from the protein content, you will also need to determine if you will be feeding non-organic or organic feed, medicated or non-medicated. I won't get in-to all of that here, but just know those are some options you will need to look in to.
How much do meat chickens eat?
For Cornish Cross, you will want to plan for 15 pounds of feed per bird. This general rule should help you in determining how much feed you will need.
Keep in mind that this is not an exact number, but it does seem to be an average among chicken owners.
Some who have raised Cornish Cross report slightly lower numbers of 12 pounds per bird, while others report closer to 18 pounds per bird. Since the roosters do tend to grow larger than the hens, this may have something to do with the variances in food consumption.
It is worth noting again that these birds are known to sometimes have health issues due to the rapid growth. Personally, we have not had that happen. We follow a twice a day feeding schedule once the birds are 2 weeks old. We feed once in the morning and again in the evening, but never leave feed out overnight.
I hope you find this post helpful. If you're looking for additional resources in book version, you can check these out!
Books about Raising Chickens:
How to Raise Chickens for Meat
Storey's Guide to Raising Chickens