Quail are gaining popularity in the backyard poultry world. But for urban homesteaders, noise associated with these little birds is an important factor to consider. This post talks about the various reasons quail make noise, as well as how loud they are, to help you decide if they could be a good fit for you.
If you've clicked around on my site at all, you've noticed that I am an advocate for raising quail at home. They can provide you with fresh eggs and are an excellent source of high-quality meat, all in very little space.
And while the fact that they need less space is a huge positive for those in urban environments, the noise factor is another area that needs to be considered. So, let's talk about quail noise!
Affiliate Disclosure: This post may contain affiliate links. As an Amazon Associate, this means that I will earn a small commission if you chose to purchase through my links. This is at no extra cost to you.
Do Quail Make Noise?
Quail are not completely quiet birds, but they also aren't loud birds. They fall somewhere in between usually only making noise during mating season or when there is an issue (see more on common issues towards the bottom of this post).
In fact, most days our Japanese Quail are almost completely quiet. We may hear the rooster crow once or twice or the soft chirruping while tending to them. But for the most part, there are no loud noises coming from their housing setups.
So, what do quail sound like?
Their sound is very similar to that of a wild songbird. The quail callings are not a sharp or excessively loud sound like that of a crowing rooster. You can watch this short video to get an idea of the male Coturnix quail crow. The female coturnix quail makes a soft sound, not as loud as this crow.
I'll discuss the need for male quail in just a bit..
Do all quail sound the same?
No, the song of each quail can vary by breed. Bobwhite quail are actually named for their song. It sounds like this little bird is saying "Bob White". Take a listen to the difference between a Bobwhite and a Coturnix.
Male Coturnix Quail Noises
The crow of a male coturnix quail is much softer than that of a rooster. They usually start singing their songs around the time of sexual maturity, as a way to get the attention of female quails.
Most of the time, the male quails crow blends into that of the wild birds around our property and we hardly notice it. However, if the quail are making this noise at nighttime when other birds are generally quiet, it may raise some complaints from close neighbors.
The amount of noise they make can also increase during breeding season. The males will call out to attract the female quail. If you are going to have male quails, ensuring a good ratio of males to females during breeding season is important to cut down on the noise.
Do I Need a Male Quail?
If you're concerned about the noise levels of the mail quail's crow, you may be wondering if it is necessary to have one (or multiple). The answer is no, it is not always necessary, but you may be limiting yourself on future quail endeavors.
If you are only wanting to raise quail for egg production purposes, you can still get quail eggs without a male. Your hens will still lay eggs, they just won't be fertile (so no incubating them for new chicks).
If you are wanting to raise them for fresh quail meat, having male quail is the best way to go. You will be able to get fertile hatching eggs whenever you need to hatch a new batch of meat birds. This is cost-effective and reduces your dependence on an outside source.
Of course, you can always purchase fertile hatching eggs or hatchlings from an outside source if having a rooster absolutely isn't an option.
Female Coturnix Quail Noises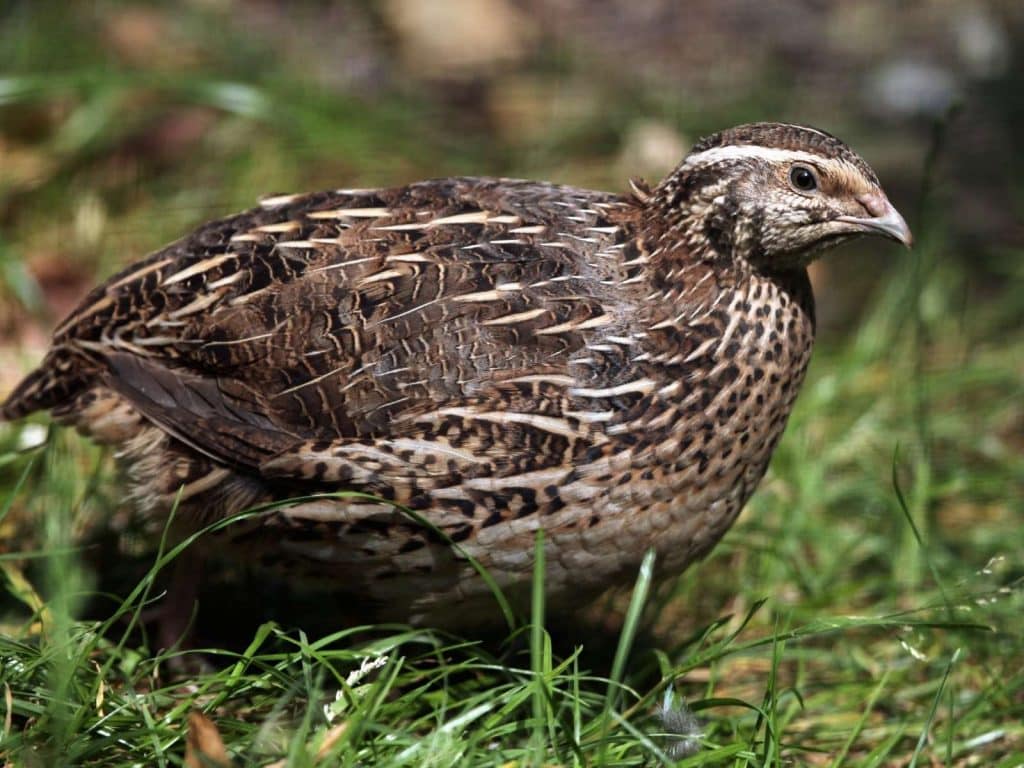 Female quail on the other hand do not crow. They are generally quiet, only making very quiet chirping noises.
However, if there are potential threats – perhaps a predator or over aggressive male – you will notice your female quail making louder noises.
Here is a sound clip of a female coturnix quail. As you can see, her call is quite a bit softer than that of the males.
Are Baby Quail Noisy?
If you are going to be hatching quail eggs, you may be wondering about the sound of the chicks. After all, these young quail will need to be kept in a brooder – probably indoors somewhere.
Baby quail – ages 0-4 weeks – are generally not too loud. That doesn't mean that they don't make noise. They will definitely be chirping away in their brooder as soon as they hatch. However, the noise typically isn't very loud, as long as all their needs are met.
Somewhere between 4 and 8 weeks of age, you will probably notice male quail crows.
Tips to Brooding Happy Quail
To try and keep your quail happy and healthy in the brooder,
Keep clean water and freshly ground feed available around the clock.
Ensure there is enough living space within the brooder. Quail will quickly pile on top of each other if they are trying to get out from under the heat lamp or get to food. This can cause stress, which leads to more noise – and sometimes even death.
Maintain appropriate temperatures based on the age of the quail. Although quail are hardy birds as adults, they are quite fragile as chicks. If the temperature is off in your brooder, your little birds will more than likely be making a lot of noise.
No matter what, your little quail will probably be chirping to some extent in the brooder – that's just what baby chicks do 🙂
Why are my quail being noisy?
Maybe you have quail already and despite what everyone says online about them being quiet, yours are being loud. In general, a happy quail shouldn't be excessively noisy, so there may be something going on in your cages.
Check these various reasons to see if you think they could be the cause of your noisy birds:
Not Enough Space
The fact that quail usually only need a small space to live in makes them appealing to someone in an urban environment. But space requirements should still be respected in order to keep your birds happy. In general, you want to provide close to 1 square foot of space per bird in wire cage systems. Overcrowding can lead to stressed (and loud) birds.
Breeding Season
Male quails will begin calling for mates, usually during the Springtime. Check to make sure you have a good male to female ratio in your pens.
Speaking of male to female ratios – if you have too many males and not enough females, you will probably notice loud noises from even your hens. Keeping a good breeding ratio (1 rooster to every 5 hens) is important for keeping happy birds.
Aggressive Bird
Quail can be aggressive at times. And it's not just the males. We have had an instance of a female quail that was aggressive no matter where we put her. She would constantly peck the heads of the other quail – even the males! Wherever she was, the other birds were constantly in distress and making more nosie than usual. Once we removed her, the birds would go back to normal.
Something is Wrong
Quail are pretty quick to let you know that something is wrong – from a predator, to pests, to food or water issues. If you hear your birds being excessively loud, don't just assume they are being loud for no reason. Go take a look at the cages and make sure there isn't anything out of place.
We have automatic waterers. There has been a time that the tubing messed up and they needed fresh water. Another season, we had issues with gnats in our area. They were swarming the quail and thankfully, they let us know by continually calling out that something was wrong.
Stressed Due to Artificial Light
In order to keep quail laying routinely, artificial light is often used. However, if you are not allowing the quail to have periods of time without light, this can cause stress. And if you haven't picked up on it yet – stressed quail usually means loud quail 🙂
Personality
Sometimes, you just have a talkative bird and there isn't anything you can do to make them be quiet. If this is the case for you, unfortunately the only solution may be to get rid of said bird(s).
Reasons To Raise Coturnix Quail at Home
If you've decided to give raising quail at home a try (and checked all your city ordinances), here are a few of the awesome benefits to it!
The Eggs
Quail are prolific egg layers, laying just as many eggs as chickens. Since they are such small birds, their eggs are of course smaller. But that doesn't mean they are lacking in flavor or nutrients. In fact, quail eggs have a slight advantage over chicken eggs in some nutrients.
Require Less Space
Quail are becoming more and more popular in the backyard poultry world. This is because these small game birds usually require less space than traditional backyard poultry (chicken, ducks, etc.). This makes them a potential option for those living in urban or suburban areas.
While chickens and ducks usually prefer the ability to free range, quail are generally happy in a smaller space. Some individuals with very little outdoor space choose to use cage systems or rabbit hutches, while those with a little more outdoor space will utilize quail tractors or aviary systems.
The Meat
Jumbo Coturnix quail are also an excellent source of protein. Their rapid growth means that you can be putting fresh quail meat in your freezer every 8 weeks. You can have a steady stream of nutritious dark meat, raised right at home. Of course you'll need to purchase an incubator in order to hatch new birds. In my opinion, the investment of an incubator like this one is well worth it!
(If you're planning to raise for meat, check out this post comparing Jumbo Bobwhites to Coturnix.)
As you can see, quail offer a lot of benefits to homesteaders – or anyone who is interested in establishing a sustainable homegrown food source. I wish you the best on your quail raising journeys!
Check out these other quail related posts:
Beginners Guide to Raising Quail on The Homestead (humblyrootedhome.com)
Raising Quail in the Cold of Winter (humblyrootedhome.com)
Perfect Quail Eggs – How to Boil and Peel Quail Eggs (humblyrootedhome.com)