Quail's eggs are delicious – there's no doubt about that. But handling their small size can prove to be a challenge. I'm sharing my tried-and-true method for cooking and peeling these tiny eggs.
We have a lot of quail on our little homestead. Which means we have a steady stream of these bite-sized eggs coming in daily. In one week, I usually cook anywhere from 5-6 dozen quail eggs – and we still have an abundance of them ready to go.
Needless to say, I had to figure out pretty quickly how to save time when cooking and peeling these eggs. After many rounds of overcooking and tearing away half of the egg during the peeling process, I've finally got a good system down.
First I'll go over how to boil the eggs, and then we will get in to how to peel them easily!
Thinking about raising quail at home? Check out this guide to getting started or this guide on how to store fresh quail eggs!
(Affiliate disclosure: This post may contain affiliate links. As an Amazon Associate, this means I earn a small commission if you choose to purchase through my links. This is at no extra cost to you!)
Boiling Quail Eggs
The time you cook will depend on your desired outcome. Are you wanting to eat them for breakfast, or maybe you're going to try to make Scotch Quail Eggs? If so, you'll want a soft boiled egg, with a slightly runny yolk.
Maybe you plan on pickling the eggs? For that, you'll more than likely want hard boiled quail eggs, with the egg white and center of the egg completely cooked.
I hard boil most of our quail eggs since we pickle them for preservation purposes, however I do love a good soft-boiled egg for breakfast.
The steps for soft or hard-boiled eggs are the same, they just have different times for cooking. Here are the exact steps for cooking your eggs.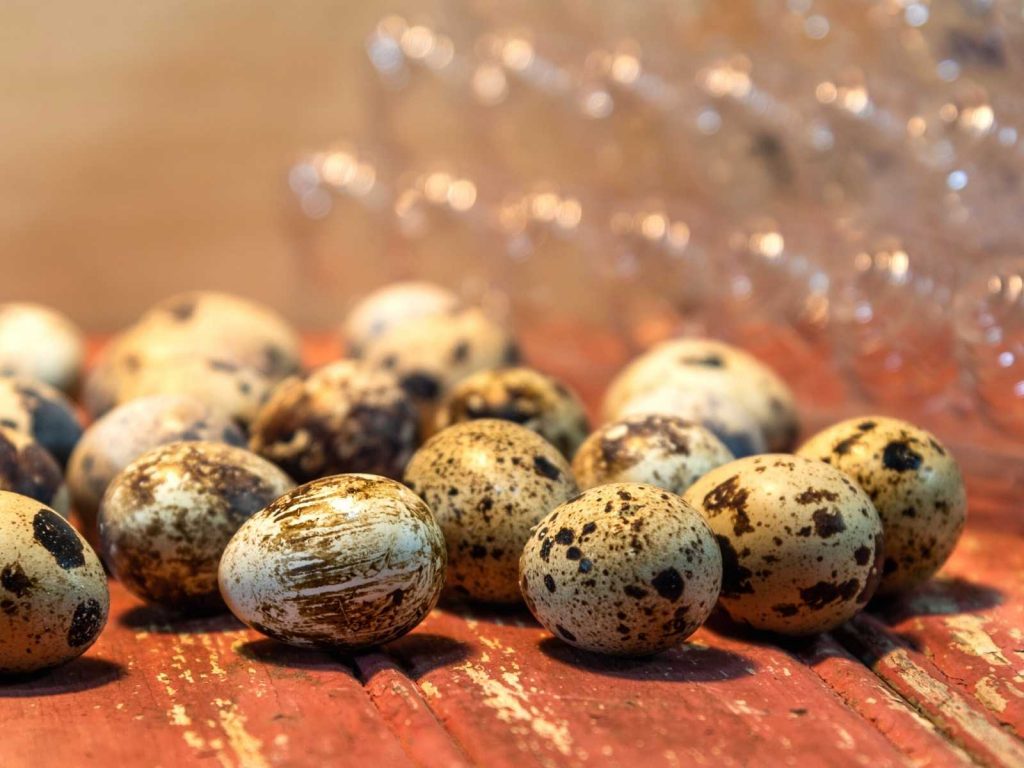 How to Soft Boil Quail Eggs
Bring a medium pot of water to a rolling boil over medium-high heat.
Lower washed eggs in to boiling water with a slotted spoon. You'll want to try to get them all in as quickly as possible for even cooking times.
Boil eggs for for 2 and a half minutes.
Carefully remove the eggs from the boiling water, either by dumping the water out or scooping the eggs back out with the slotted spoon.
Cool the eggs by running under cool water, or by dunking them in an ice-water bath.
How to Hard-Boil Quail Eggs
Bring a medium saucepan of water to a full boil.
Once water is at a rolling boil, lower your washed quail eggs into the hot water using a slotted spoon.
Let the eggs boil for 4 minutes.
Once the 4 minutes is up, remove the eggs from the water by draining or scooping them out with your slotted spoon.
Place eggs in a bowl of cold water, or run under cold tap water, to cool and stop the cooking process.
Tips for Perfectly Cooked Quail Eggs
Always be sure to wash your fresh quail eggs in cool water to rinse off any debris. This may not be an issue if you are purchasing your eggs from the store, as they washed at the factories.
Do not place your eggs in the water before it is boiling. You want to wait until the water is at a full boil before putting your eggs in.
Take your eggs out of the fridge while your water is coming to a boil. Using eggs that aren't directly from the fridge should help reduce cracking in the shell while cooking.
Try to work quickly when removing the eggs from the boiling water in order to start cooling. Due to the small size of the eggs, they can quickly become overcooked.
Don't skip the ice water bath at the end of the cooking time. If you don't have ice, running under cold water should be sufficient. You need to get the eggs cooled off to avoid over cooking.
Your eggs are now ready to peel and use in whatever recipe you want.
Speaking of peeling…how do you peel these tiny quail eggs anyways?
There are a few different ways to peel quail eggs. I'm going to start with the method that I prefer, and then give a couple of other options.
How to Peel Quail Eggs Easily
Place hard boiled eggs in a glass bowl.
Pour in 5% white vinegar until all eggs are covered. Place bowl in fridge.
Allow eggs to soak in vinegar for at least 8 hours, or overnight.
Once soaking period is over, rinse the eggs. You'll notice all the spots have floated to the top of the vinegar and your eggs are now white.
The eggs are now soft and rubbery feeling, and ready to be peeled. The shell has deteriorated during soaking, so what you are peeling is actually the membrane from under shell.
This is hands down the easiest way I've found to peel these tiny eggs – especially when you're needing to peel a lot of eggs at once. When I'm getting ready to pickle eggs to preserve, I'm cooking a minimum of 6 dozen quail eggs at one time. That's a lot of peeling to do!
I've not had any issues with the vinegar taste transferring to the eggs during soaking.
Have you wanted to try pickled eggs? You may want to check out these other posts: Easy Recipe for Pickled Eggs in Dill Pickle Brine , 10 Easy Recipes for Pickled Eggs without Pickling Spice , Easy Spicy Pickled Quail Egg Recipe for Beginners
But if you don't have the time to wait for eggs to soak, or maybe you're only needing to peel a few eggs – you can try these two options.
Traditional Egg Peeling Method
You can peel your quail eggs using the same method you would use for regular chicken eggs, it's just a little more tedious due to the size.
Crack one end of the quail eggshell.
Roll the egg on a hard surface to break up the remainder of the shell.
Pick and peel the pieces of the shell and the membrane away from the egg.
Keep in mind that if your eggs are over cooked, this can affect the peeling process. This is why cooling your eggs at the end of the cooking time is important.
Egg Peeling Machine
If you're peeling a lot of quail eggs, you may want to look in to purchasing a quail egg peeling machine, like this one.
I've not personally used one, so I can't vouch for its effectiveness and Amazon doesn't have many reviews. But it seems like a cool little machine and we're considering buying one to test out soon.
Health Benefits of Quail Eggs
If you're thinking about using quail eggs in place of chicken eggs, you may be wondering how they stack up nutritionally. It is commonly said that quail eggs are superior to chicken eggs, but are they really?
When comparing 100 grams of quail egg to 100 grams of chicken eggs, the fat content, protein and overall calorie count are extremely close to each other. Quail eggs have approximately 1 more gram of fat and protein, and 10 more calories per 100 grams.
Quail eggs do however have quite a bit higher level of Vitamin B12, Iron, and Riboflavin. This could be due to the large yolk to egg white ratio you find in the quail eggs.
I think it's important to note that both quail and chicken eggs are a great source of protein, packed with nutrients that are good for your immune system. So whichever eggs you have a steady supply of should be just fine for getting in vitamins and minerals.
Are you a backyard poultry owner? You may enjoy these other posts:
Lavender Orpington Chicken Guide – What You Need to Know
How to DIY a Cheap Brooder Box for Chicks