A list of the best homestead animals for new homesteaders or small hobby farm owners. Learn how to start producing food at home and possibly earn some money.
When you're new to homesteading (or starting a small farm or being self-sufficient – whatever you want to call it) you will need to decide what animals best suit your family. While you'll eventually end up with variety of animals, you usually have to start small – especially with all of the expenses that go into setting up shelter and supplies.
So, what are the best animals for new homesteaders? What animals start to provide you food most quickly? How can you easily start to make back some of the money you've spent?
That's what this guide is all about. Helping you select the best small animals for your new or small homestead or hobby farm.
(Affiliate Disclosure: This post contains affiliate links. As an Amazon Associate, this means that I earn a small commission if you purchase through one of my links. This is at no extra cost to you!)
The Best Animals for Your Small Homestead or Farm
Jumbo Coturnix Quail
Dairy Goats
Dual-Purpose Chickens
Honey Bees
Meat Rabbits
All of these animals can work together for the overall benefit of your homestead.
Now let's get into some details!
Don't have time to read it all now? Pin this for later!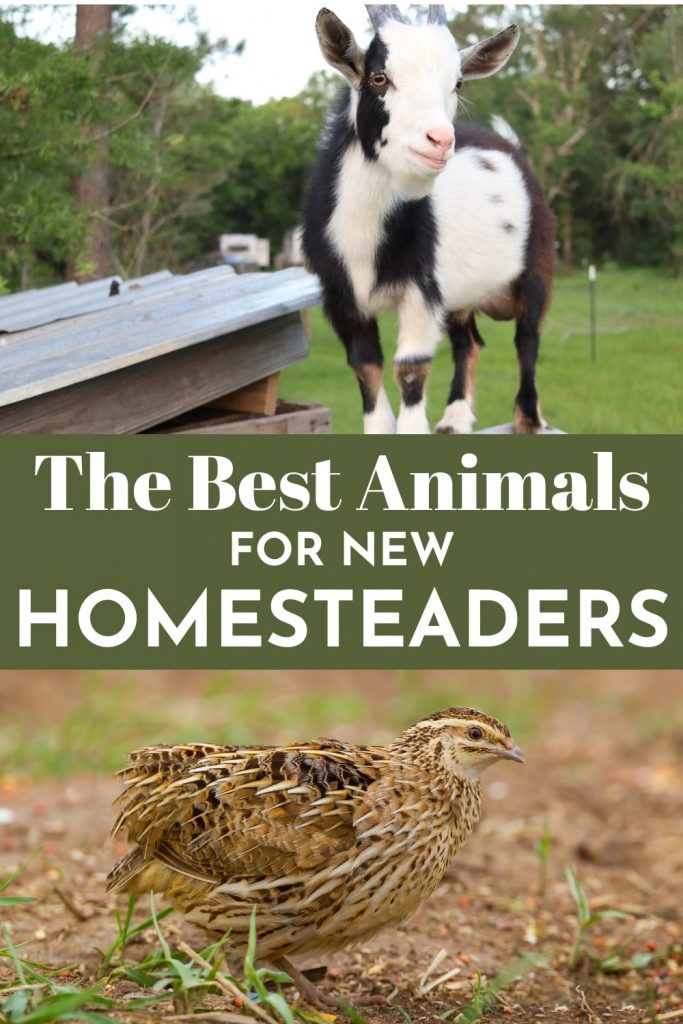 Jumbo Coturnix Quail
Homestead Animal for Eggs and Meat
Quail have recently become a popular pick amongst homesteaders, and I can see why. These little birds are incredibly productive when it comes to both egg and meat production, and depending on your cage setup, can require very little space. Some people even choose to raise these birds on their back patios in apartments!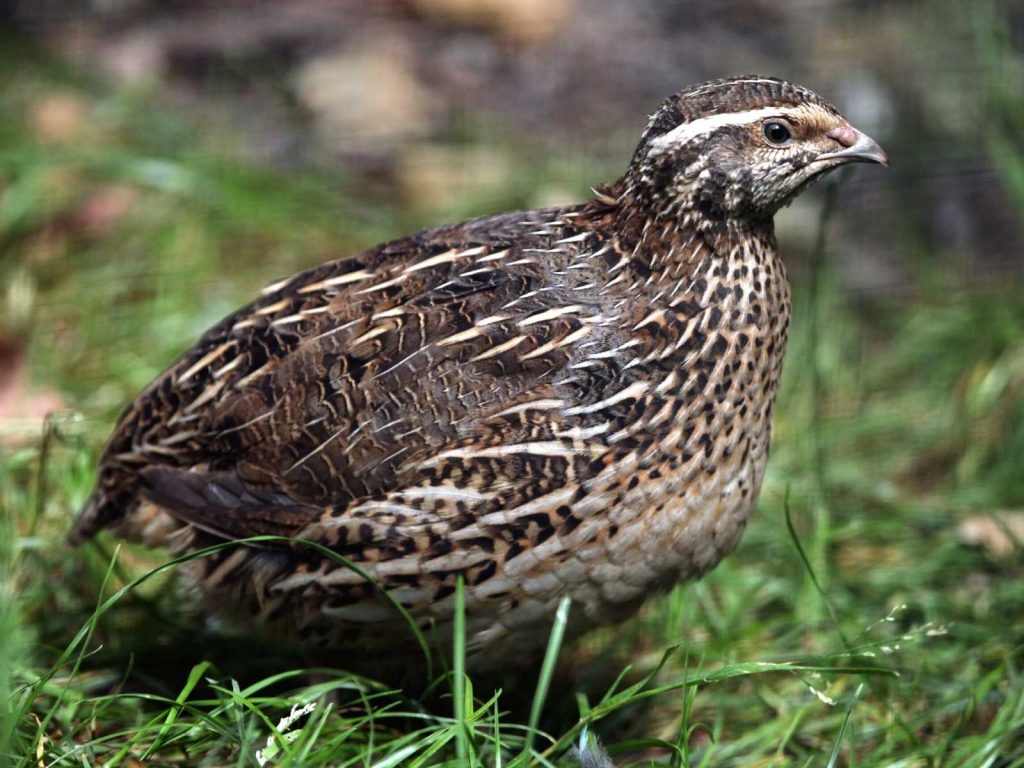 They are fairly low-maintenance farm animals – just requiring your daily checks for water, food, and overall health. If you're raising in a cage system, you will also need to factor in time for cleaning the cage pans, which can fill up with droppings pretty quickly. When it comes times to process the birds (if you are raising for meat) it is also a pretty quick process and doesn't require tons of special equipment which is nice for cutting down on costs.
Here's a post on what all you need to get started raising quail.
We raise Jumbo Coturnix here on our homestead, and I think they are the breed that gives you the most in terms of production vs time, so I'll focus on them in the following details.
Jumbo Coturnix Meat & Egg Production:
These little birds will start to provide your family with eggs as early as six weeks of age. That is drastically sooner than most of your chicken breeds, which sometimes don't start laying until closer to 24 weeks. Of course, the eggs are a bit smaller, with 3 quail eggs equaling about 1 chicken egg. But still, with the small size of the birds, you can afford to house and feed a large quantity of them.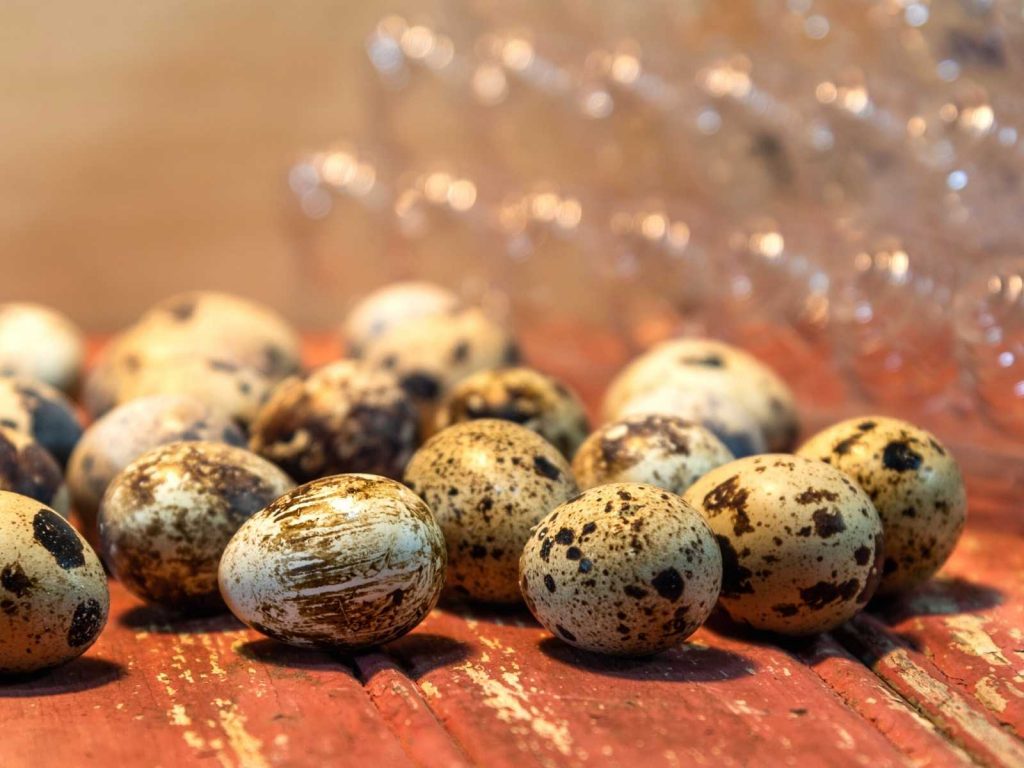 If processing for meat, you can process somewhere between 8-12 weeks old. We tend to pull our quail around 10 weeks, and the birds weigh in between 10-14 ounces usually.
Housing for Coturnix Quail
Quail are a flighty bird – so you cannot free range them like you would chickens. They will need a cage system, quail tractor, or aviary set up. Our personal preference is the quail tractor and eliminates the need for cleaning the dropping pans in the cage system.
How much square feet of space do you need per bird? Well, it varies depending on who you ask. Some recommendations state 1 bird per 1 square foot, while others say up to 4 birds per square foot of space. The important thing to note is that if you overcrowd your birds, you will see signs of pecking and possibly illness. If you start seeing these signs, it's a good chance you've got too many birds in one spot and need to do some rearranging.
How can you make money from raising quail?
If you're looking to offset feed costs or even make a little profit from your quail, you can consider these options.
Selling eggs.
Selling fertile hatching eggs.
Selling meat to individuals or restaurants.
Reptile owners also purchase frozen quail for their animals.
Selling live birds.
Selling feathers to fly fishermen or crafters on Etsy.
To sell the live birds, you will need an incubator. We use this incubator with quail rails. We don't sell live birds usually, but we do incubate and hatch our own quail so that we don't have to purchase new quail each time we need to raise a batch.
Dairy Goats
Homestead Animal for Dairy Products and Fertilizer
If you're wanting to produce dairy on your homestead, but the thought of getting 7 gallons of milk a day from a dairy cow overwhelms you – you need a dairy goat!
Well, really you need a few because goats are pack animals and do not do well alone. But even 3 dairy goats don't take up as much space as a milk cow would.
These smaller animals can be a great option for producing a small amount of milk – which is great if you are just getting started milking. Dairy goats are popular on small homesteads and hobby farms. On a daily basis, you will want to make sure they have plenty of fresh water, good quality hay or forage, and possibly some supplemental grain. Your goats that are in milk will need to be milked twice a day (unless you are "kid sharing" and letting the kid take care of one milking). This is important and a big daily responsibility. Skipping milking sessions can lead to mastitis in your goats udders.
Other routine care for goats includes trimming hooves, checking for worms, brushing coats, and changing their bedding. Speaking of bedding – save all that soiled bedding and dropping for your garden beds. It makes an excellent fertilizer!
Some of your popular dairy breeds in the United States are Nubian, LaMancha, and Nigerian Dwarf goats.
How much milk do you get from a dairy goat?
This is very dependent on the breed of dairy goat you choose, but you can expect somewhere between a half gallon to a full gallon a day while the goats are in milk. They usually stay in milk for about 8 months after giving birth.
Check out this article from Backyard Homestead HQ that has an interesting breakdown per breed.
How Much Milk Does A Goat Produce Per Day? Guide By Breed (backyardhomesteadhq.com)
If a gallon a day still sounds like too much fresh milk, don't forget that you can use this fresh milk to make cheese, butter, and even soap!
What type of housing do goats need?
You will need a fenced area and a covered shelter for your goats.
While we love our little Nigerian Dwarf goats (they are so stinkin' cute and playful) they are amazing escape artists. This is true for all goats, so good fencing is a must.
Seriously, don't skimp on the fencing unless you want to chase these surprisingly fast animals all over the yard.
So how big does the pen need to be? For happy goats that have space to roam, you'll want about 200 sq feet of outside space per goat.
In addition to the fenced enclosure, they'll need actual shelter to stay out of the rain and cold in – somewhere around 20 sq ft per goat.
We use a "hut" type shelter that we made from repurposed pallets. It is enclosed on 3 1/2 sides and has a tin roof. This allows the goats to get out of the rain, and blocks them from cold air during winter. It also provides them additional shade during summer, but is still ventilated enough to allow a breeze through.
Also, when it gets time for the does to give birth, it is a good idea to have a safe spot away from the other goats (a "kidding pen").
How can you make money from raising dairy goats?
Sell goats milk products – like soap or cheese.
Sell the baby goats (kids).
If you have a quality billy, you can charge a breeding fee.
Backyard Dual-Purpose Chickens
Homestead animal for Meat and Eggs
If you're looking for another animal that can provide you with both eggs and meat, you may want to look at raising a flock of dual purpose backyard chickens!
I absolutely love raising chickens on our homestead. Sure, the roosters can be a little loud at times, but you cannot beat the fresh chicken eggs they provide you with daily. I think they are one of the best farm animals, especially for those new to raising animals.
They are fairly low maintenance. You'll do a daily feeding, watering, and well checks. You'll want to keep an eye out for illnesses and sometimes treat wounds (especially if you keep roosters around – they can be a bit aggressive with the hens at times). Clean their coop as needed and give them some treats or kitchen scraps and they will love you forever.
In my opinion they are the easiest animals to care for on our homestead. We allow them to free range, and so long as they are getting to do that, they are happy. We secure them in the chicken coop at night, let them out in the morning, and they spend their days running around, scratching and pecking.
Egg and Meat Production
I'm suggesting a dual-purpose breed in this post. What does that mean? It means they are decent producers of both eggs and meat. You can also breed and hatch new chicks from your existing flock, which creates a long-term "closed system" for food production.
While we primarily only use our backyard birds for eggs, we like knowing that if needed, we could hatch more birds that could also provide us with meat.
The exact amount of eggs you get daily will vary by breed. We almost always get an egg a day per bird during peak laying season from our main dual-purpose breed (Orpingtons). Some other breeds may only give an egg every other day (like our Araucanas). Typical ages that hens start laying will be anywhere between 16-24 weeks of age.
If you opt to process your dual-purpose purpose birds, you will be looking at about 16-18 weeks before they are ready to process. The pounds of meat you get will vary – again, this depends on breed.
But, just for reference: when we have processed our Orpingtons in the past, we have ended up with two thin sliced chickens breasts totaling about one pound from each bird. The leg quarters were decent size, though they will be smaller than the chicken leg quarts you have probably seen in the grocery stores in the past.
If you're primarily interested in raising for chicken meat, check out this article on Cornish Cross. They are a designated "meat bird" – but you cannot breed this on your own and you will be dependent on an outside source.
What do chickens need for housing?
There are endless housing options for chickens. You will see extravagant coops, to chicken tractors, to pre-fab coops. The main components are that it is safe from predators, has clean laying boxes, and provides a place for chickens to get out of bad weather (even though my chickens prefer to stand out in the rain for some reason).
It's really personal preference on how you house them, but the amount of space you need will be a little more specific.
In general, you want to provide your chickens about 10 square feet outside space and 3-4 square feet inside the coop – per bird. Of course, larger breeds will need a little more space than smaller breeds. Give them some roosts to perch on at night and a place for a dust bath in the run.
Also, if you're going to be free ranging, you can get away will a little less space in the run since the birds won't be confined to that.
How to Make Money from Backyard Chickens
Sell extra eggs.
Sell fertile hatching eggs.
Sell baby chicks.
Sell pullets (hens about to start laying).
Sell chicken manure for compost piles (sounds weird – but hey, it's a thing).
Honey Bees
Homestead Animals for Honey and Pollination
This one may not have been on your radar, but they can be so helpful to your homestead. I won't spend much time talking about them here, because I don't have the hands on experience with raising the bees. But I will tell you how you can possibly get started with no experience..
How to Get Honey Bee's on Your Property
Reach out to local bee-keepers and see if they are interesting in setting up boxes on your property. We were able to get boxes set on our property for free! The beekeeper will actually provide us with a gallon of honey annually, we get a tax break (check with the good ol' IRS to see if you qualify for one), AND we get these busy little pollinators for our garden.
Note that some beekeepers may charge you to set the boxes up – which is understandable considering the current costs of things plus the time they put in to checking boxes and setting them up. You'll really just have to check around in your specific area to see what is available, and then weigh the costs with the possible benefits to your property.
I don't personally have any interest in tending to the bees myself – I'll leave that up to the experts! But for now, we are enjoying having these hard workers on our property as well as working with local beekeepers.
Meat Rabbits
Homestead Animal for Meat and Fertilizer
This may not be an animal you are familiar with raising for meat, but they are still work mentioning for those who are serious about self-sufficiency. Meat rabbits are a reliable source of meat that you can raise in a small space. They also provide you with tons of rich fertilizer for your garden beds.
There are different breeds that are raised for meat production purposes – like New Zealands and Californians.
Daily you will need to provide the basics – clean water and fresh food. Hay and fodder are your more natual options. You can also pick up rabbit pellets at a feed store, but I would recommend these be a secondary food option to grass, quality hay and fodder. Make sure their bedding stays clean to promote good health. Weekly you will want to do a more thorough cleaning of the hutch or cage. Keep an eye out for things like ear mites, which rabbits are prone to getting.
How much meat do meat rabbits produce?
We are going to focus on the most popular for meat production – the New Zealand breed.
Due to the rapid reproduction, you can get somewhere between 125-250 pounds of meat per year from one meat rabbit! Of course, there are factors that can affect this, including how frequently you breed as well as the size of the litters. In general, this gives you a good number to work with.
The harvest time for rabbits is around 8 weeks of age. The older they get, the tougher the meat, so you won't want to let them go too far past that point.
What type of housing do meat rabbits need?
Much like chickens, you will find a variety of hutch options for rabbits from DIY to prefab. You want to provide your rabbits a safe and sanitary place to live, as well as a nesting box for when it is time to give birth.
Usually, the hutches consist of two sections. One section is completely closed in with wire, while the other section has walls and a roof, making it more secure.
You will want to be sure to set your hutch up in a shady area to help keep the rabbits cool during hot weather.
Making Money From Meat Rabbits
Sell rabbit meat.
Sell rabbit fur.
Sell live rabbits.
As you can see from this list, these few animals can provide you with a wide range of food, as well as adding nutrition for your garden. Isn't it wonderful how everything can work together to create a self-sustained homestead?
Shop this post:
Farm Innovators with Automatic Egg Turner
Read more homesteading articles:
Lavender Orpington Chicken Guide – What You Need to Know – Humbly Rooted Home
Quick and Easy Recipe for Spicy Pickled Eggs in Dill Pickle Brine (humblyrootedhome.com)
Easy Sauteed Yellow Squash and Zucchini Recipe with Bacon (humblyrootedhome.com)