Use this free weekly cleaning printable to help stay organized in your cleaning routine, meal planning, or general household management tasks!
Affiliate Disclosure: This post may contain affiliate links. As an Amazon Associate, this means that I will earn a small commission if you choose to purchase through my links. This is at no extra cost to you!
I've written several posts on this blog about how I (try to) keep a clean home amidst a busy life.
And while I do love printable cleaning checklists that have tasks filled in – this is more of a blank slate for you to customize.
Use this printable to set up a daily cleaning schedule that fits your family, size of your home, and your season of life!
This printable is for personal use only and should not be reproduced for commercial purposes.
Keep reading for inspiration on exactly how to use this printable and set up a practical cleaning routine in your home!
Daily Cleaning Tasks
This section is set up "habit tracker" style. These are the cleaning tasks that you want to get done on a daily basis. They are my "cleaning habits".
Grab the free printable weekly cleaning checklist with habit tracker here!
Then, head over to this post for your free categorized grocery list printable as well!
My personal cleaning habits are:
Load of Laundry
Dishes
Kitchen Cleaned
Floors Swept/Vacuumed (living room, dining room, kitchen)
Beds Made
Whole House Tidy-Up
Read more about the specifics of these in my daily cleaning for homemaker's post.
These daily chores are what helps me to keep a tidy home. I know that as long as I can get to these simple tasks, that the whole house will be tidy and not feel overwhelming.
These cleaning habits also mean that my house is ready for me to tackle larger tasks. So, when I get ready to deep clean a room, I don't have to worry about toys and clutter piled up everywhere.
I can just go in and start doing the deep cleaning. This means that it takes me less time to do these deep cleanings.
Even if this is the only cleaning you are able to get to on a daily basis, I highly encourage you to take steps to make these habit. I promise, these little habits go a long way and your home will feel much cleaner.
A Little Side Note:
As much as I absolutely love blogging about joyful homemaking, I always love to remind my readers that my life is not perfect. These plans I lay out are just that – plans. They are not always perfectly executed because I live a real life just like you.
While I absolutely believe that organizational tools like these are helpful, I also never want to make another momma think that she's failing because she's comparing herself to someone online who seems to have it all together.
So, rest assured friend, I don't have it all together – and neither does anyone else 🙂
Ok, let's carry on with more cleaning talk…
Weekly Schedule
The days of the week are listed at the bottom with a small section for planning. How you utilize this section of the page is again, customizable to your life and family.
Grab the free printable weekly cleaning checklist with habit tracker here!
You can use it for additional cleaning plans, meal plans, and writing down appointments.
Since I am a stay-at-home mom, I've found that it works best for us to do a bit of deep cleaning each day. I write down what I want to deep clean each day, along with any errands we need to run, reminders, and our dinner plans for the day.
Read more about how I plan my time each day in this Daily Routine of a Homemaker post!
If you are a working mom, you may find that the best time to do deep cleaning is at the end of the week. You can handle the regular cleaning like laundry, dishes, and tidying up during the week, but the rest of it just has to wait until the weekend when you have more time to do an entire house deep clean.
You may also opt to list a specific room for each day of the week. This will help ensure that each room is getting cleaned on a weekly basis.
This is why I really like this blank version. It allows you to set up your own cleaning schedule that actually works for you and your family members.
Setting up YOUR Weekly Cleaning Printable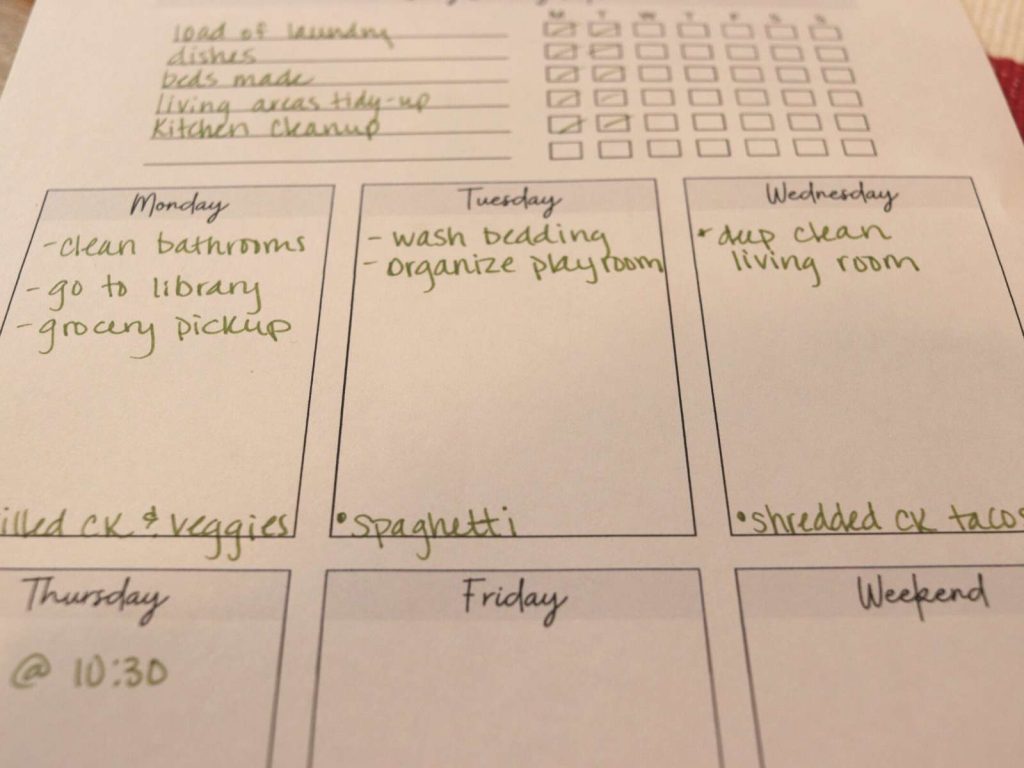 1.Make your Daily Cleaning Habits attainable.
Basically, don't set yourself up for failure.
Look around your house. See what areas are regularly cluttered and messy. Tend to those areas daily.
Don't say you're going to do something so extreme – like empty the laundry hamper every day – that it's not sustainable long term.
Do the one load – or two loads if you have a larger family – of laundry daily and put them away.
If the laundry basket is empty one day, awesome! If not, you're still tending to tasks regularly to avoid them piling up.
2.DO make your daily cleaning habits specific.
What I mean is don't set up a daily cleaning task that isn't going to make any apparent difference in your home.
A daily cleaning habit is only useful and worthwhile if it is actually helping you keep a cleaner home.
So, don't just make sure all the dirty dishes make it to the sink daily. Load the dishwasher or wash them and put them away once dry.
And don't just take the clutter from the kitchen island and put them in a pile. Put the items back where they belong.
3.Evaluate your deep cleaning tasks on a weekly basis.
Take into consideration what else is planned for the day. I don't know about you, but my life rarely looks the same week after week. Between appointments, errands, and activities, having a "set weekly cleaning routine" is just a waste of time.
Instead, I am looking at a week at a time. My daily cleaning habits stick (so the house is tidy), but I can assign different tasks to different days of the week based on how much time I have that day.
For example: Last week I deep cleaned bathrooms on Monday. This week, I'll be gone all day Monday, so scrubbing bathrooms probably won't happen that day. I'll go ahead and move bathrooms to a different day of the week that I know I'll be home. Maybe I'll choose a less time-consuming tasks for Monday, or maybe I'll just not deep clean that day.