These free printable scripture cards are a great way to work on memorizing scripture and having little bits of truth scattered throughout.
It's safe to say that everyone has hard days – sometimes weeks or months – where we feel exhausted.
Aside from just physical tiredness from meeting the needs of those around us, we can also feel spiritual tiredness.
Some days seem overwhelming. From world events to chaos in our homes, some days are just hard to stay positive.
It can be hard to see beyond to ugliness of the effects of sin on this world.
That's why we must draw on the Word of God to strengthen and encourage us during these times – to remind us of what is true.
"You shall therefore lay up these words of mine in your heart and in your soul, and you shall bind them as a sign on your hand, and they shall be as frontlets between your eyes." Deuteronomy 11:18
So, I thought about some of my favorite verses that I fall back on during difficult times…
And I made them into printable cards that you can download and print – for free!
Use them for scripture memorization or just place them in different spots of your home for little bits of encouragement.
Affiliate Disclosure: This post may contain affiliate links. As an Amazon Associate, this means that I will earn a small commission if you choose to purchase through my links. This is at no extra cost to you!
Scripture Memory Cards for Women
These beautiful scripture cards are meant to direct your mind to the peace of God and help encourage you to draw on His strength for doing the work set before us.
Get your set of printable scripture cards by clicking this link!
How to Print
After clicking download button above, the PDF file should open in a new window. You are then free to save to your computer and print as many times as you need.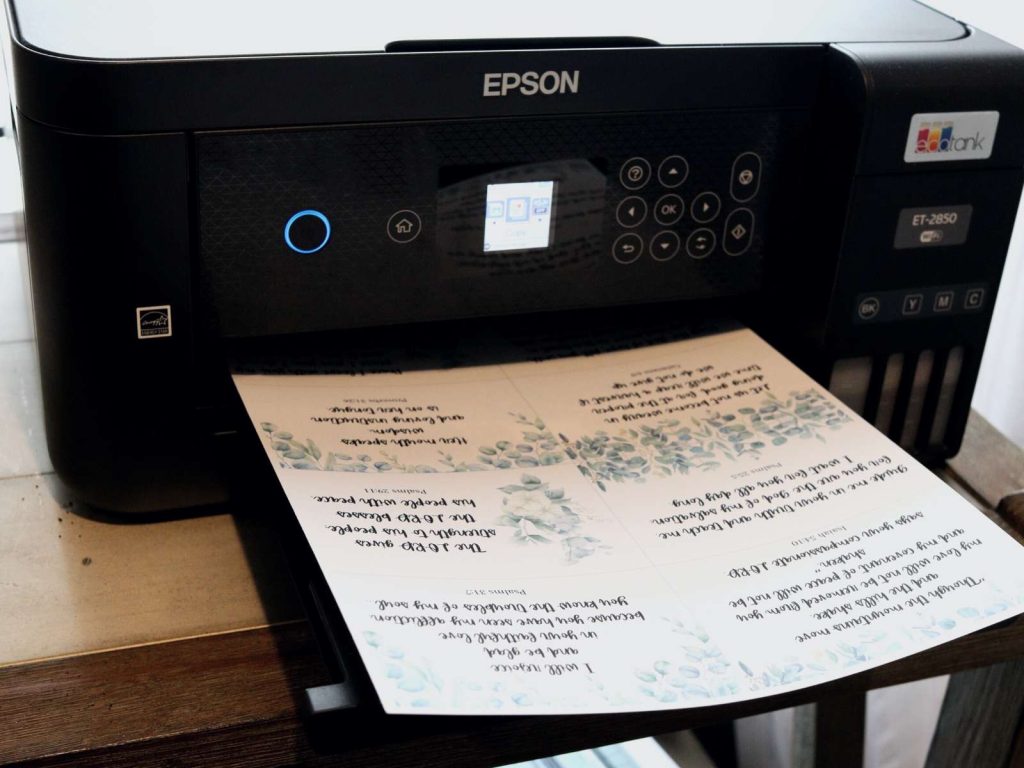 I love my Epson Eco Tank 2850 for printing my Bible study resource and homeschool curriculum. After printing well over 500 pages, my ink levels are still about 75% full!
The best way to print your free scripture cards is by using a letter sized piece of card stock.
You can then cut the cards using scissors or a handy paper cutter like this one. Feel free to laminate them with an at home laminator for long term use.
Check out some of my other free printables and Bible Study Resource Guides to assist you in your spiritual goals:
Free Prayer Journal Printable – perfect for becoming more consistent in your prayer life!
Free Printable Bible Study Guides – use these guides to deep your understanding of God's Word!
The Best Bible Studies for New Believers – a list of some of the best Bible studies for Biblical literacy!
Why Scripture Memory is Important
Having scripture verses hidden in your heart so that you can recall them in everyday life, right in the midst of chaos, is such a powerful tool to use against the enemy.
We see scripture described as a weapon in several parts of the Bible.
In the book of Ephesians, we read about putting on the full armor of God. This armor includes the "belt of truth". We find truth when we read the Words of God.
Put on the whole armor of God, that you may be able to stand against the schemes of the devil. Ephesians 6:11
Jesus Christ Himself used scripture to combat the lies of Satan during temptation.
But he answered, "It is written, "'Man shall not live by bread alone, but by every word that comes from the mouth of God.'"
The Word of God is a weapon – living and active, and sharper than any two-edged sword.
Lies cannot stand against it. The truth of God will always prevail against lies.
So let us be diligent to hide God's truth in our hearts.
How to Use Printable Scripture Cards
These free printable bible verse cards are free for you to use for personal use and should not be used for resale.
The small size of the cards makes them ideal for carrying with you or placing them around the house.
If you're wanting to use these cards as a way to memorize scripture, place them in areas that you will see frequently.
You can print and stick them in your prayer journal, on your desk at work, or at the kitchen sink. Read them frequently throughout the day.
Memorizing God's Word will prove to be helpful during difficult times. Especially when you're not able to get to your Bible for reading as much as you desire!
What are your favorite Bible verses for reflecting on God's promises? Let me know down below!