Use the simple recipes and grocery shopping list to meal plan your next week of dinners!
Today I'm going to share my weekly menu with you guys, complete with recipes and grocery list.
Why am I taking the time to do this?
Well, because I know that sometimes meal planning can get a bit boring and repetitive.
And I'm hoping by sharing my meal plan for home-cooked meals, that it will motivate and inspire you…and save you a little time in the coming weeks!
So, let's dive in, discuss meal planning and check out some easy dinner ideas.
Don't forget to grab your grocery shopping list down at the bottom of the post!
Affiliate Disclosure: This post may contain affiliate links. As an Amazon Associate, this means that I will earn a small commission if you choose to purchase through my links. This is at no extra cost to you!
How I Select Meals for My Family Meal Plans
First, I like to put healthy meals on the table for my family members.
Healthy for my family simply means that it uses as many whole foods as possible, and limits processed foods. We're not calorie counting or restricting any food groups.
Second, the recipes have to be suitable for family meals.
Basically – I need it to be something that my young children will also eat.
Third, it has to be a simple meal.
I love to experiment with new recipes that are a little more complex on the weekends.
But when it comes to menu planning for the weekdays, I like to stick to easy recipes that don't take a lot of time.
I also need the simple ingredients that I can pick up at my local grocery store.
See the Grocery Haul and Cook with Me Over on Youtube!
Why You Should Meal Plan with a Grocery List
Creating easy meal plans each week is beneficial for both your grocery budget and your stress level.
No longer do you have to try to decide what to cook last minute or run to the grocery store to grab forgotten items.
You'll already have all the ingredients you need to prepare the recipes on your family meal planner.
How to Meal Plan for Your Family
Believe it or not, meal planning doesn't have to take much time. With just a little planning, you'll be ready to put delicious meals on the dinner table every night!
Start by taking stock of what you already have.
This eliminates food waste, and you won't be buying duplicate items. Check your freezer, fridge, and pantry.
Decide on the recipes you want to cook.
I recommend not trying a new recipe every night. Stick to some meals that you just know how to cook! And try to select recipes that use the perishable ingredients you already have on hand.
Lastly, look for recipes that use overlapping ingredients. This may allow you to do some simple meal prep. Simple things, like dicing all onions or browning all your ground beef in large batches, can really make a difference on those busy nights!
Assign meals to each day of the week.
This isn't absolutely necessary – but if you know one night of the week is going to be packed with extracurricular activities, assign the easiest meal to that night! Save the more labor intensive recipes for evenings with more time.
Make a grocery list with everything you need.
Be detailed so you can get everything in one trip to the grocery store. Grab this blank categorized grocery list printable to make grocery shopping easier.
(The complete grocery list for this meal plan is at the bottom of the post!)
Dinner Recipes for The Week
Now let's look at some of the easy recipes that the whole family will enjoy!
Zucchini Spaghetti
I don't think this meal needs much detail on how to cook it. It is spaghetti meat sauce, with sauteed zucchini in it.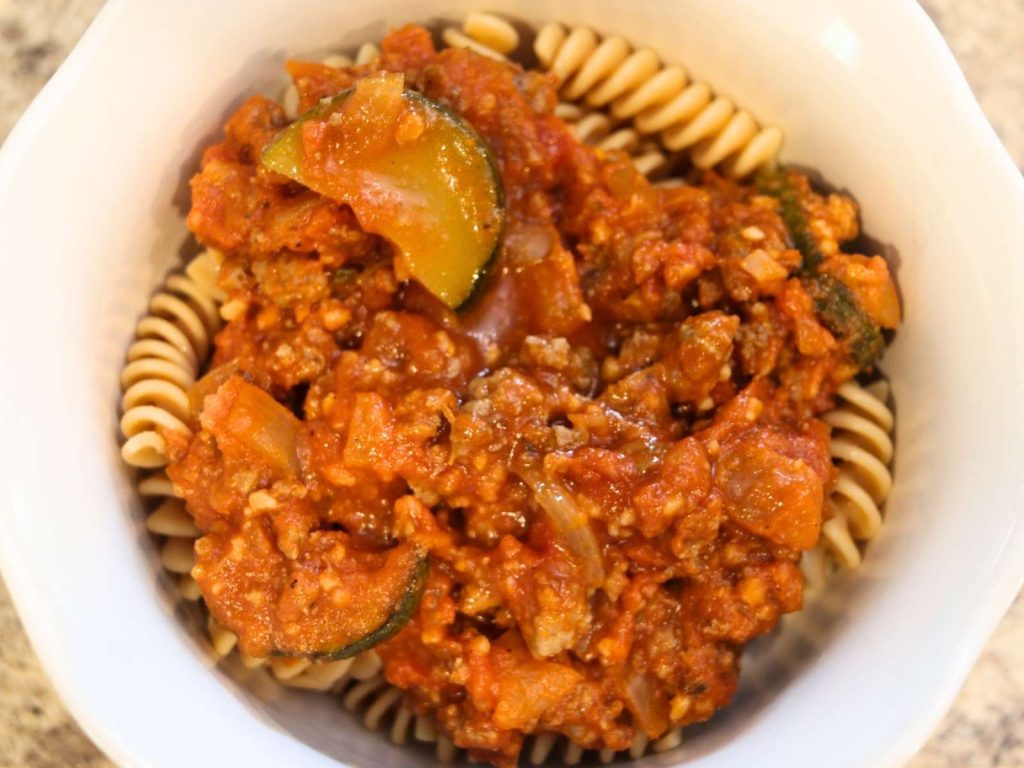 Sautee' some zucchini seasoned with salt and pepper, and add it to your spaghetti meat sauce. Sometimes I use a jarred pasta sauce and other times I'll make my own.
I add zucchini to our spaghetti because it's a simple way to get some extra veggies in my kids.
We also rarely use spaghetti noodles in our house. I use penne or bowtie pasta because it's easier for my kids to eat with a fork.
Pork Chop Sheet Pan Dinner
This pork chop sheet pan dinner recipe from Julia Pacheco is a delicious and easy meal with minimal cleanup. You'll bake juicy bone-in pork chops seasoned with a blend of garlic powder, and paprika, with tender roasted potatoes and broccoli. Everything is cooked on a single sheet pan, making cleanup a breeze.
I've found this recipe to be very easy to adapt based on ingredients you already have on hand. I've made it with boneless chops and different potato varieties. It turns out great every time!
Simple Cashew Chicken with Green Beans
This cashew chicken stir-fry with green beans and mushrooms recipe delicious and healthy weeknight dinner option. The recipe features tender chicken breast, fresh green beans, and flavorful mushrooms, all stir-fried together with a savory sauce made with soy sauce, rice vinegar, and garlic. Topped off with crunchy cashews, this stir-fry is a tasty and satisfying meal that is easy to make and perfect for a busy weeknight.
Don't think your kids will eat one of the ingredients? Just leave them out! I've omitted both the mushrooms and cashews from this recipe and the end result was still delicious!
Creamy Garlic Chicken and Rice
This recipe is probably my favorite from this meal plan. It was a new-to-us recipe that will definitely be returning!
Juicy chicken is cooked down in a creamy rice mixture with fresh spinach. It was easy, delicious, and my kids loved it. This dish cooks down in one skillet, which means the cleanup is easy. What more can a mom ask for?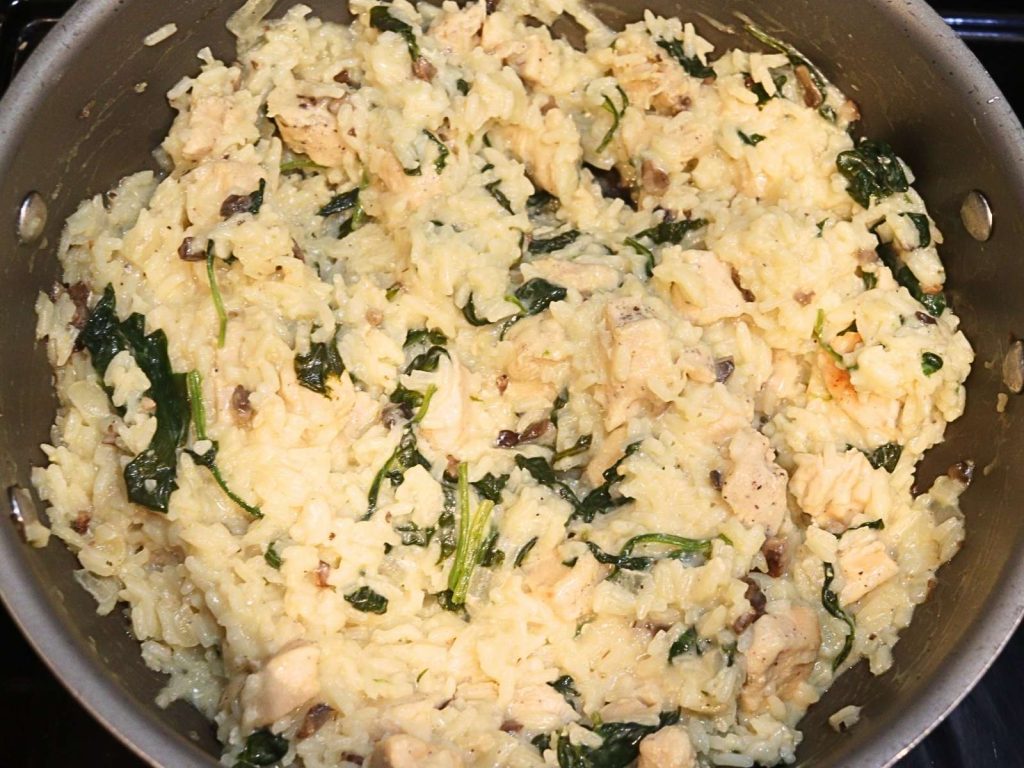 I added mushrooms and sauteed onions when I made this, simple because I had them and didn't want them to go to waste.
Meatloaf, Mashed Potatoes, and Veggie
This recipe fits in nicely with this meal plan because of the dual ingredients. Remember that sheet pan pork chop meal? The marinade used in that recipe has several ingredients you'll use in this recipe for the meatloaf sauce.
Meatloaf takes a little time to bake but you can use that time to prep your mashed potatoes and veggies. We opted for corn on the cob as our vegetable but choose whatever works for your family.
By the time the meatloaf is cooked, your sides will be ready and dinner ready to be served.
Recipe Roundup and Grocery List!
Here's the simple recipes used this week, and the grocery list, all in one spot for easy access!
Note – there is no recipe for the spaghetti with zucchini since it's so simple!
Creamy Garlic Chicken and Rice
Download the Free Meal Plan Grocery List Here!
Pin This Post for Later!