These spicy pickled quail eggs are the perfect way to add some variety to your egg recipes. Brined in Cajun seasoning and jalapenos, these are sure to hit the spot when you're looking for a salty & spicy snack!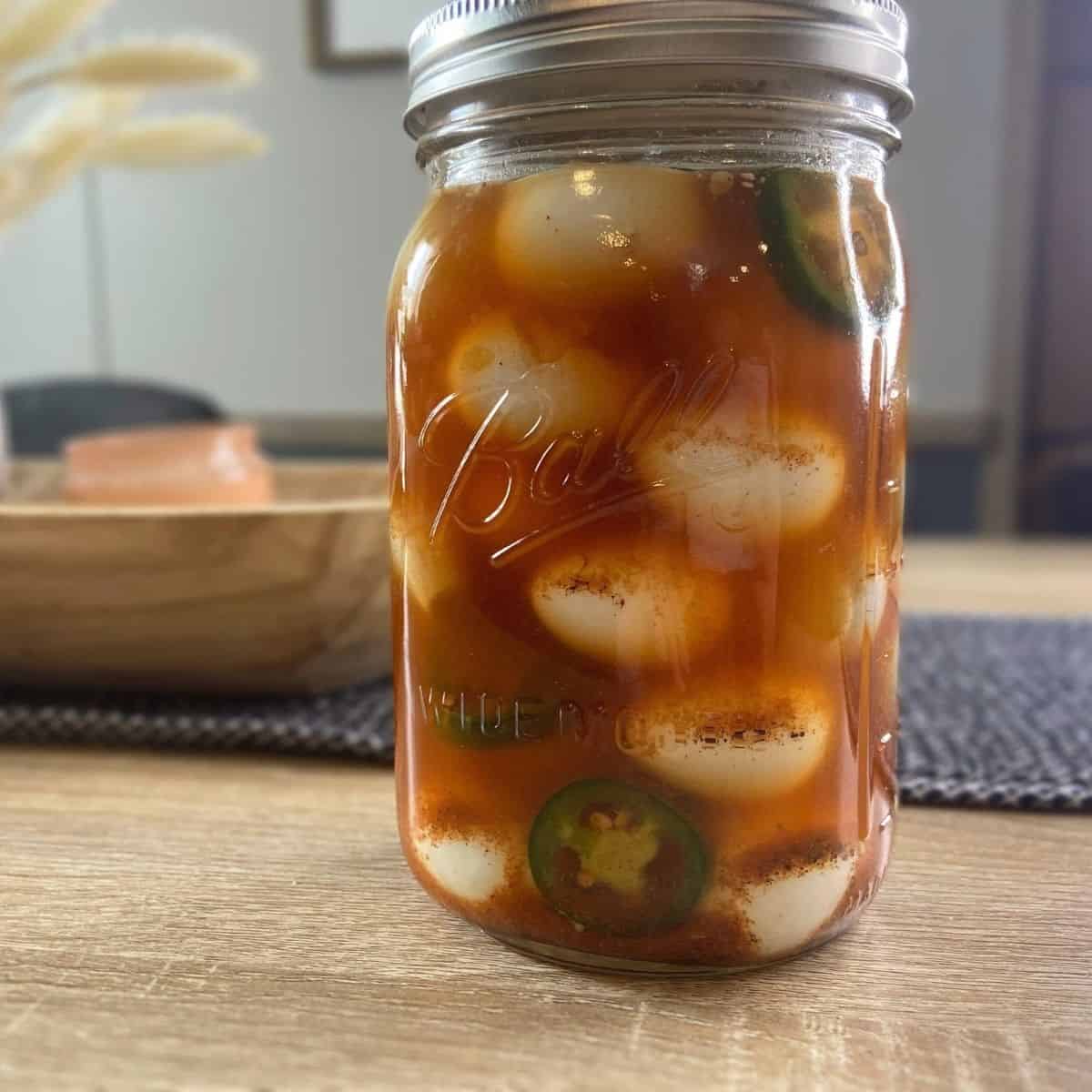 Spicy pickled eggs – sounds like a strange way to prepare eggs, but if you've ever tried them, you know this is a great addition to have in your egg recipe arsenal!
Affiliate disclosure: This post may contain affiliate links. As an Amazon Associate this means I will earn a small commission if you choose to purchase through my links. This is at no extra cost to you! Read full disclosure here.
What type of eggs will we be using?
For this particular recipe, I'll be using quail eggs. Why quail eggs instead of chicken eggs?
Well, firstly because we have an abundance of them here on our homestead. We raise Coturnix Quail ( read about raising quail at home here!) and are currently getting about 20-25 eggs a day from them – and that's in addition to the dozen chicken eggs we get daily!
Secondly, the small size of the quail eggs makes them perfect for snacking! I love the way these tiny eggs are perfectly bite sized. They also have a high yolk-to-white ratio, which increases the rich flavor of the eggs.
(Don't have quail eggs? I'm sure this recipe would work just fine with chicken eggs! You'll probably only need to use a dozen chicken eggs.)
I know you might be thinking that these tiny eggs must be a pain to peel and take far too much time. But before you throw out the idea of using quail eggs, let me share the easiest way I've found to remove these shells.
How to Peel Quail Eggs
After boiling eggs in a saucepan, allow cooked eggs to cool slightly.
Transfer eggs to a glass bowl.
Pour distilled white vinegar over the eggs. Add enough vinegar to cover the eggs completely.
Allow eggs to soak for minimum of 5 hours.
Rinse eggs with water. Egg shells should be soft and rubbery. Peel eggs by tearing the shell away.
And voila; perfectly peeled eggs, ready to pickle!
Check out my full post on boiling and peeling quail eggs here.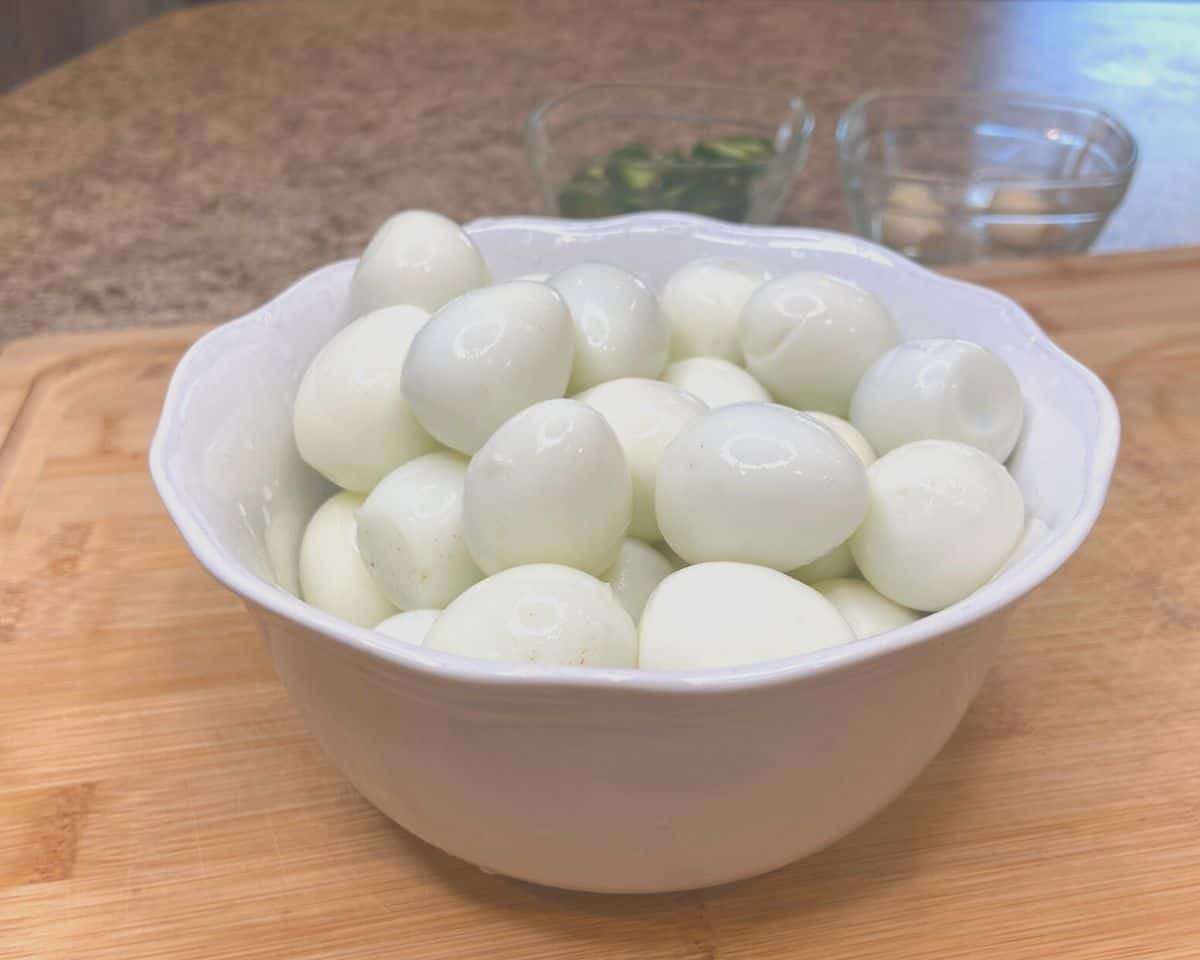 *(This post contains affiliate links. If you choose to purchase through my link, I will earn a commission on the items purchased.)
What's in a Cajun Spice Mix?
Most Cajun spice mixes start with a combination of ground peppers, onion powder, garlic powder, thyme and oregano.
For this recipe, I'll be using a store-bought Cajun seasoning that is widely available in my area. This seasoning blend does tend to be on the saltier side, so if you prefer a lower sodium content, or prefer to adjust the sodium to your own preference, you may want to check out the Salt Free Tony Chachere's.
Or, if you prefer to mix your own spices, you can check this blend out here.
Storing Pickled Quail Eggs
The National Center for Home Food Preservation states that pickled eggs should be stored in the fridge at all times and consumed within 3 months. You can read this article in full here.
(Always research and follow health and safety guidelines when it comes to preserving or pickling foods.)
(Want more recipes? Here's a full collection of pickled egg recipes without pickling spices! 10 Easy Recipes for Pickled Eggs without Pickling Spice)
How to Make Spicy Cajun Pickled Quail Eggs
After you've boiled and peeled your eggs, you'll want to start on your brine. To do this you'll need:
1 cup water
1 cup vinegar
2 tablespoons cajun spice
pickling/canning salt to taste
Combine all ingredients in a sauce pan over medium heat. Bring to a boil, then reduce to a simmer for about 5 minutes.
While the brine is simmering, slice your jalapeno and peel your garlic. There's really no right or wrong amount to use here. If you enjoy really spicy food, slice a couple of jalapenos. If you prefer a milder spice, you may want to do just one jalapeno and remove the seeds.
Start layering your eggs in a glass jar. I used 3 dozen quail eggs in this recipe and found a quart sized jar to be the perfect size.
I prefer to layer my eggs with the jalapenos and garlic in between each layer.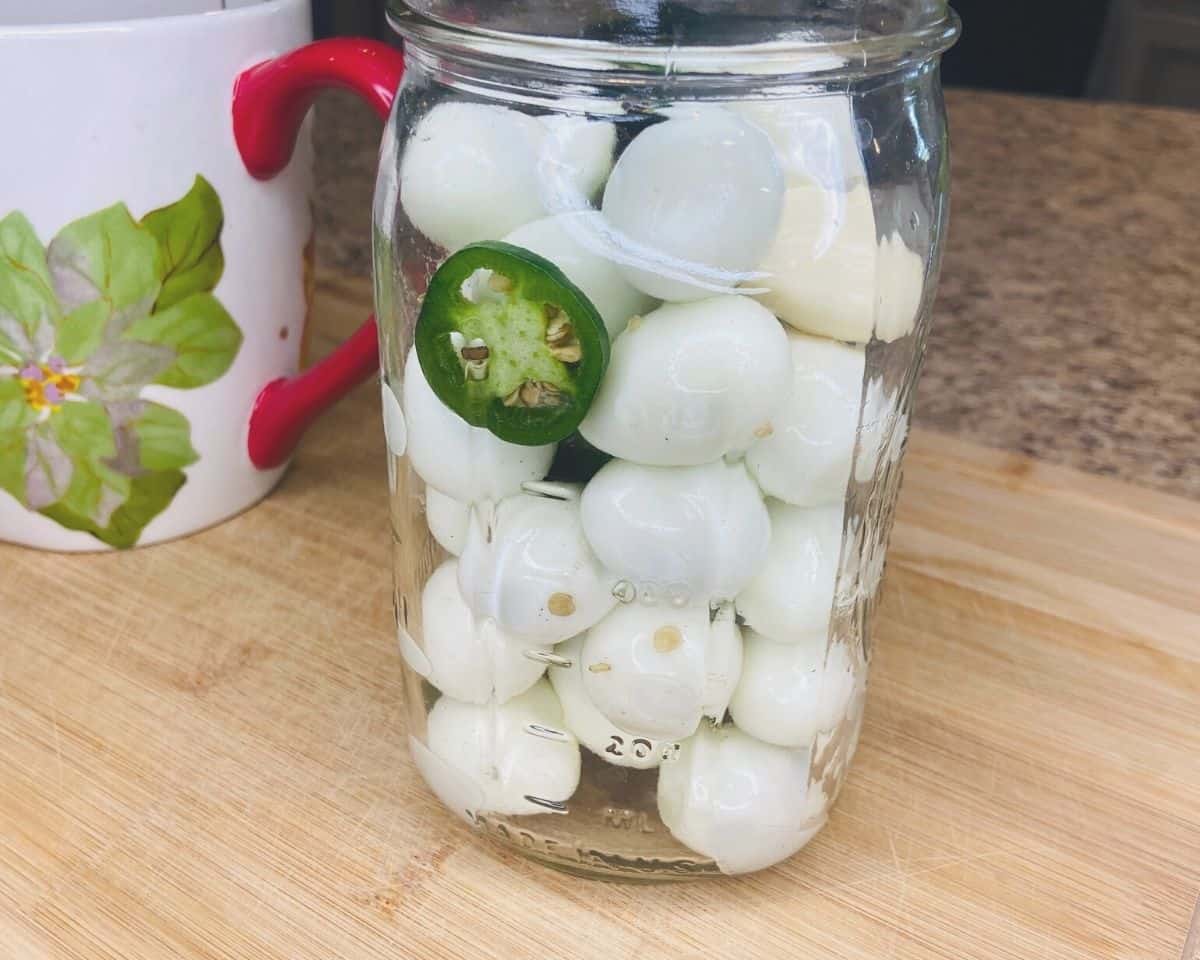 Once the brine is slightly cooled and you're able to handle it safely, it is ready to be poured over the eggs. You want to make sure all eggs are submerged in the liquid to give them a chance to soak up the seasoning.
Put on the lid, place in your fridge and give the eggs a good 3 days to soak.
After this, they'll be ready to enjoy.
Pin Spicy Pickled Eggs for Later!
Spicy Cajun Pickled Quail Eggs
These Cajun spiced pickle eggs are sure to hit the spot when you're craving a spicy, salty snack!
Ingredients
36

boiled and peeled quail eggs

see notes above for tips to easily peel

2

tbsp

cajun spice

1

tsp

cayenne pepper

1/2

tsp

pickling and canning salt

optional – add salt to your taste preference

1

small to medium jalapeno; thinly sliced

remove seeds to reduce heat; or add another jalapeno for more spice!

2-3

cloves

fresh garlic

1

cup

water

1

cup

distilled white vinegar
Instructions
For the Brine
Combine vinegar, water, Cajun spice and optional salt in medium saucepan. Bring to a boil, then simmer 5 minutes.

While brine is simmering, add layer of boiled & peeled eggs to quart jar. Continue adding layers of eggs, alternating between adding jalapenos and garlic to each layer.

Once brine is complete and cooled, pour brine over the eggs, ensuring all eggs are submerged in liquid.

Tighten lid on jar, and store eggs in fridge. Allow at least 2-3 days for eggs to soak up seasoning.
Notes
Calories are based on calorie content of 1 quail egg.