This easy recipe for pickled eggs is packed with flavor. Fresh jalapenos, onion, and garlic are all used to enhance the flavor of the packaged dill pickle brine. This makes for a delicious snack and some of the best pickled eggs I've had at home!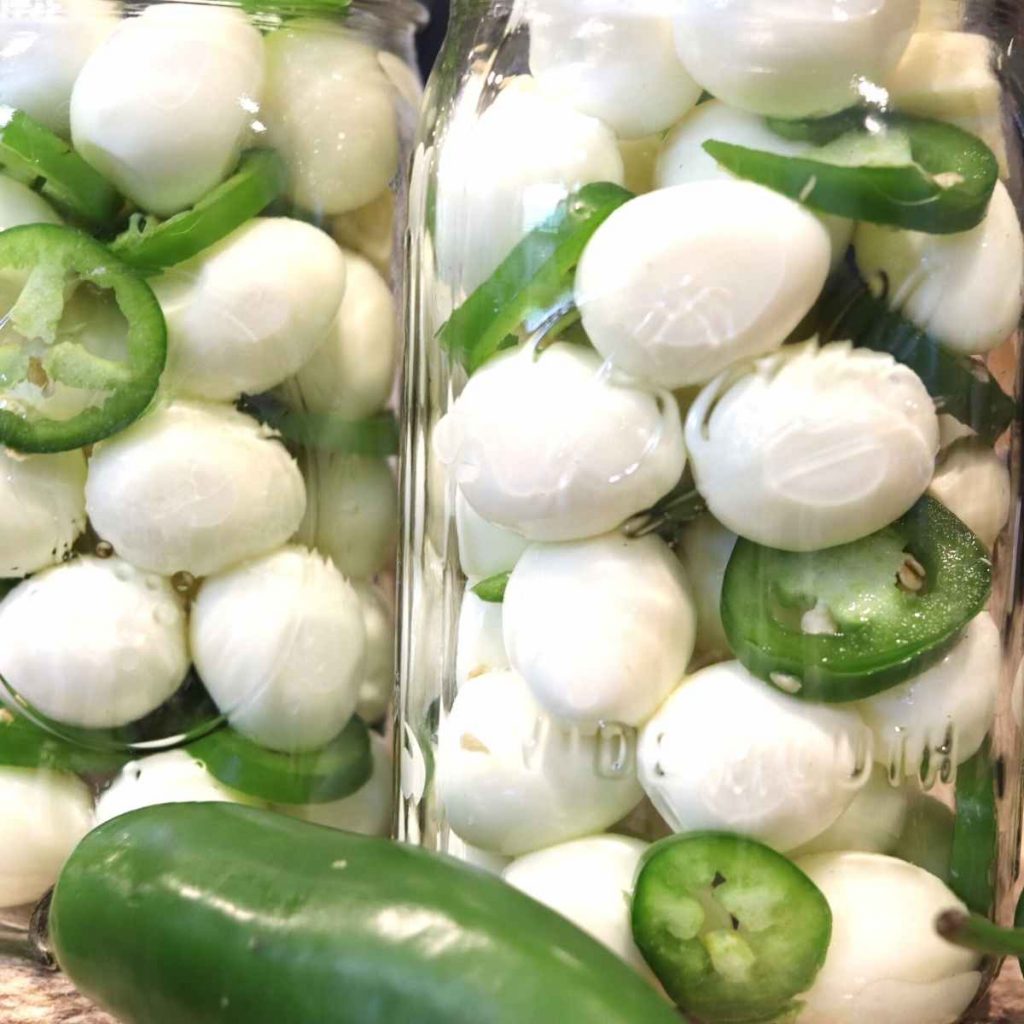 (*This post may contain affiliate links. As an Amazon Associate, this means that I will earn a small commission if you purchase through my link. This is at no extra cost to you.
This time of the year, we are overrun with eggs from both chickens and quail that we raise. And since we only eat so many scrambled or fried eggs a day, I've really taken to pickling eggs as a way to add in some variety.
The first time I pickled eggs at home, I really didn't have a clear understanding of what spices I needed. I went to the grocery store, bought some McCormick Pickling Spice, and made a quick brine.
After a few days of the eggs soaking, I gave them a taste. The eggs were sweet and bold in flavor (like cinnamon and ginger) – but not the flavor I was hoping for. I knew I wanted a pickled eggs recipe without pickling spice.
The pickled eggs I had bought in the past had tasted more like they were soaked in dill pickle juice- salty and a little spicy. So, I began experimenting with different flavors to try and recreate the flavors of the store-bought eggs.
This simple recipe has become my favorite way to make some quick pickled eggs. It uses common ingredients and a pre-packaged spice mix.
This recipe is for a large batch (4 quart jars) of pickled eggs. See the notes below the recipe for what to do if you don't have enough eggs to make a full batch right now.
What exactly is a pickled egg?
It's exactly what it sounds like – a peeled hard-boiled egg that has been soaked in a "pickling solution". The pickling solution (A.K.A brine) is made from boiling water, vinegar, and spices together. It is then poured over the hard-boiled eggs and the eggs absorb the flavor over days or weeks.
This method has traditionally been used as a way to preserve eggs for several months, although nowadays they are generally associated as a "bar food".
So what do they taste like?
You'll find a wide range of flavors. You'll find some recipes result in more of a sweet and tangy egg. I prefer the salty and spicy eggs. I've even pickled some eggs with Tony's cajun seasonings (one of my other favorite recipes). I think that's the fun part of making pickled eggs. After you prepare the water/vinegar brine, you can really experiment with the spices and seasonings you add until you find the flavor you love!
Is this a traditional pickled egg recipe?
No, I would not classify this as a "traditional" pickled egg recipe, simple because we are using a pre-packaged solution as opposed to fresh spices and herbs. This is more of a quick and easy recipe, that results in a salty, zesty brine, much like what you find in a jar of dill pickles.
What type of eggs should you pickle?
You'll want to stay away from large eggs, and instead chose medium or small eggs. This allows the pickling brine to really soak in. We primarily use quail eggs, but small chicken eggs can also work.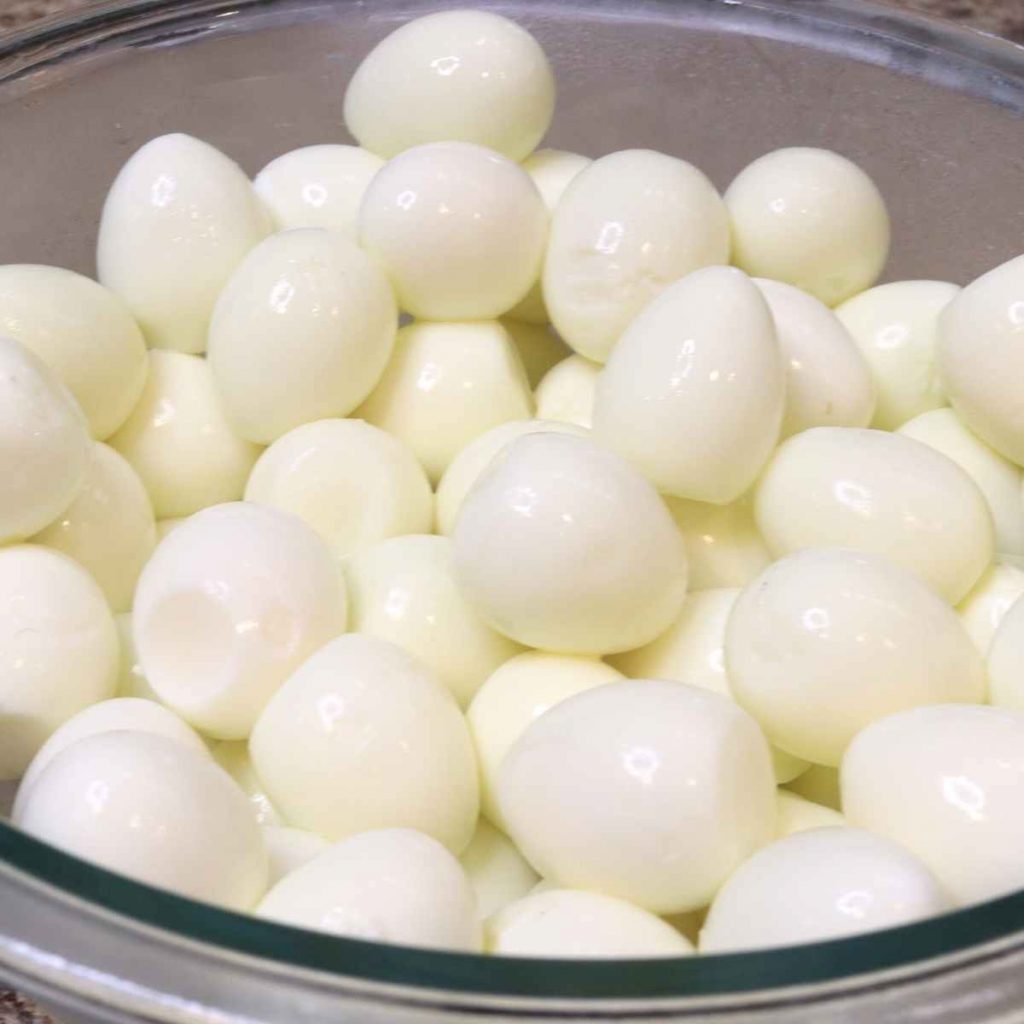 Can I pickle grocery store eggs?
It is recommended to use fresh eggs for pickling to ensure the best quality during storage. Eggs in the grocery stores are generally several weeks old by the time you get them. If you don't have your own source of fresh eggs, try reaching out to some local farmers in your area.
Can I make my own seasoning?
Sure, you can mix up your own blend of seasonings to use. But I've found this packaged seasoning is an easy way to achieve the flavor I love – so I'm just sticking with it for now!
What can you use pickled eggs for?
Aside from just snacking on the pickled eggs (they make an excellent low-carb snack), you can also use them in dishes like egg salad, tuna salad, or potato salad for a little extra tanginess.
How should you store pickled eggs?
Eggs should be stored in the pickling liquid in the fridge. You do not want to store the eggs at room temperature except for during serving time, and for no more than 2 hours. The National Center for Home Canning and Food Preservation states that eggs can be stored in your fridge for up to 3 months – but they usually don't last for more than a month around here.
Centers for Disease Control does report cases of botulism from improper sterilization of supplies and improper storage here. You should always adhere to food safety guidelines with home food preservation.
Supplies
Since this recipe doesn't require canning, there is not a lot of special equipment needed. You'll just need some basic kitchen items. A large pot, slotted spoon, ladle, quart mason jars, and perhaps a jar lifter during sterilization.
Ingredients
Eggs
Jalapeno
Onion
Garlic
Mrs. Wages Quick Pickling Spice
Vinegar
Water
Prepping Jars and Utensils
When preserving food at home, you need to ensure your jars and lids are sterilized. To do this, place your jars and lids right side up in a large pot with hot water. Bring the water to a boil, and boil for 10 minutes. This process will sterilize your jars and lids, as well as have the jars warm which is important. The difference in temperature from the high heat of the hot liquid going into the cool jar can cause cracking.
A tool like this comes in handy for removing your jars and lids from the pot.
Step One: Boil and Peel Eggs
You will be using hard boiled eggs for this recipe. You want to cook the eggs until the yolks are completely cooked and are no longer runny.
Once your eggs are finishing cooking, carefully remove them from the hot water with a slotted spoon.
Allow the eggs to cool and then peel them. Give the peeled eggs a good rinse under cold water to ensure the eggs are nice and clean and that no shells remain.
Having a hard time with these tiny eggs? Check out this guide on HOW TO PERFECTLY BOIL AND PEEL QUAIL EGGS.
Step Two: Prep Extra Veggies
Now you will want to prepare the following ingredients by slicing or peeling: jalapenos, onion, garlic.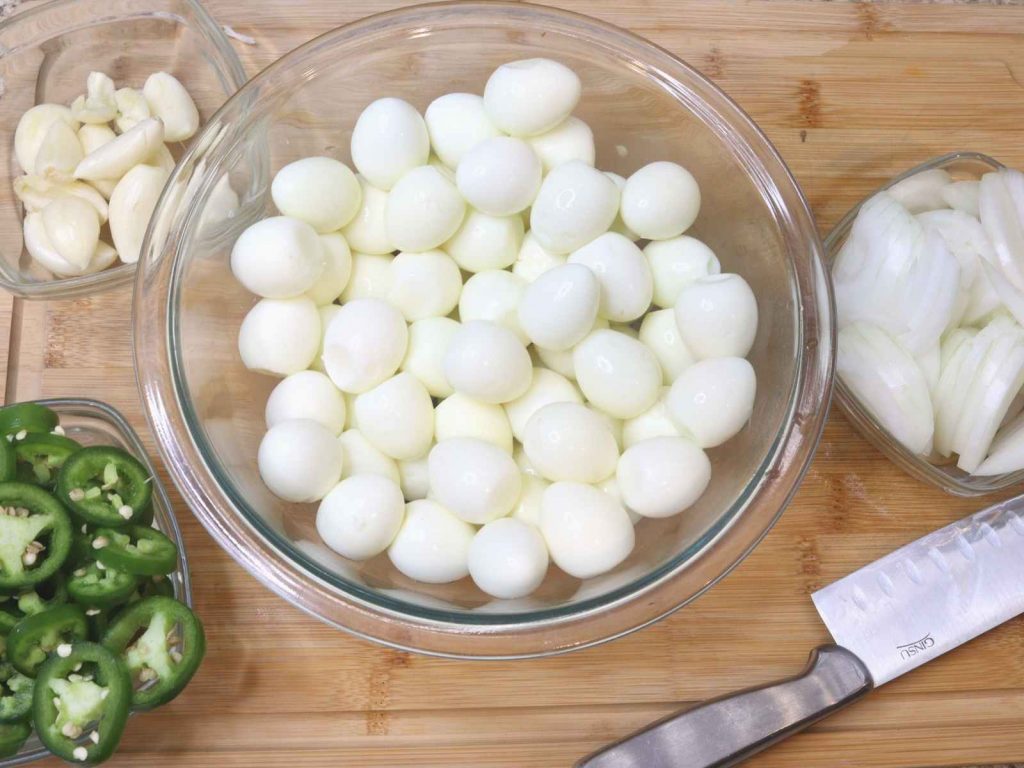 This part is optional, but I find that I really enjoy the flavors that the extra ingredients to be a great addition to the brine. I'll even snack on the pickled veggies with the eggs.
If you choose to skip this step, the brine alone will still leave you with a dill-pickle tasting egg, just without the spice.
If you like the flavor of jalapenos, but are afraid they may be too spicy, try rinsing the seeds out.
Step Three: Prepare Brine
Once your eggs and vegetables are prepped, you'll need to prepare the brine according to the packaged direction. You will do this by combining water, 5% acidity distilled white vinegar, and Mrs. Wages Quick Process Dill Pickles in a large pot and bringing it to a boil.
This is the only step from Mrs. Wages we will be using from the package.
You do not follow the processing directions on the package as those are for pickles only.
As mentioned above, this makes a lot of brine – about 10 cups. If you don't end up using it all, Mrs. Wages website states that you can store unused brine in the fridge for up to one week or freeze the brine for up to 3 months. It is not recommended to split the package.
Resource : Canning Frequently Asked Questions Answered Here – Mrs. Wages® (mrswages.com)
Personally, I make up a couple jars of eggs and then make up some pickles at the same time in order to use all the brine at once.
Step Four: Fill Jars
While the brine is coming together, take your clean jar and start to layer your peeled eggs, jalapeno and onion slices, and garlic clove.
I usually do a dozen or so quail eggs, followed by veggies, following by another layer of eggs. I've found that a quart jar will hold roughly 3 dozen quail eggs or a dozen small chicken eggs.
Don't over pack the jar so that there is room for the liquid!
Next, take your hot pickling solution and ladle it into your prepped jars. Now, fill the jar to the point that all eggs are completely submerged. Place the lid on the jars, allowing to cool slightly, and then place eggs in the fridge to soak.
Remember : you are not following the directions for canning on the package of Mrs. Wages. The instructions on the package are for making pickles only, not eggs.
Quail eggs will usually start to soak up the flavor within a few days, with chicken eggs taking a week. The large the egg, the longer it takes.
You'll notice that the egg whites will be a yellowish color after soaking.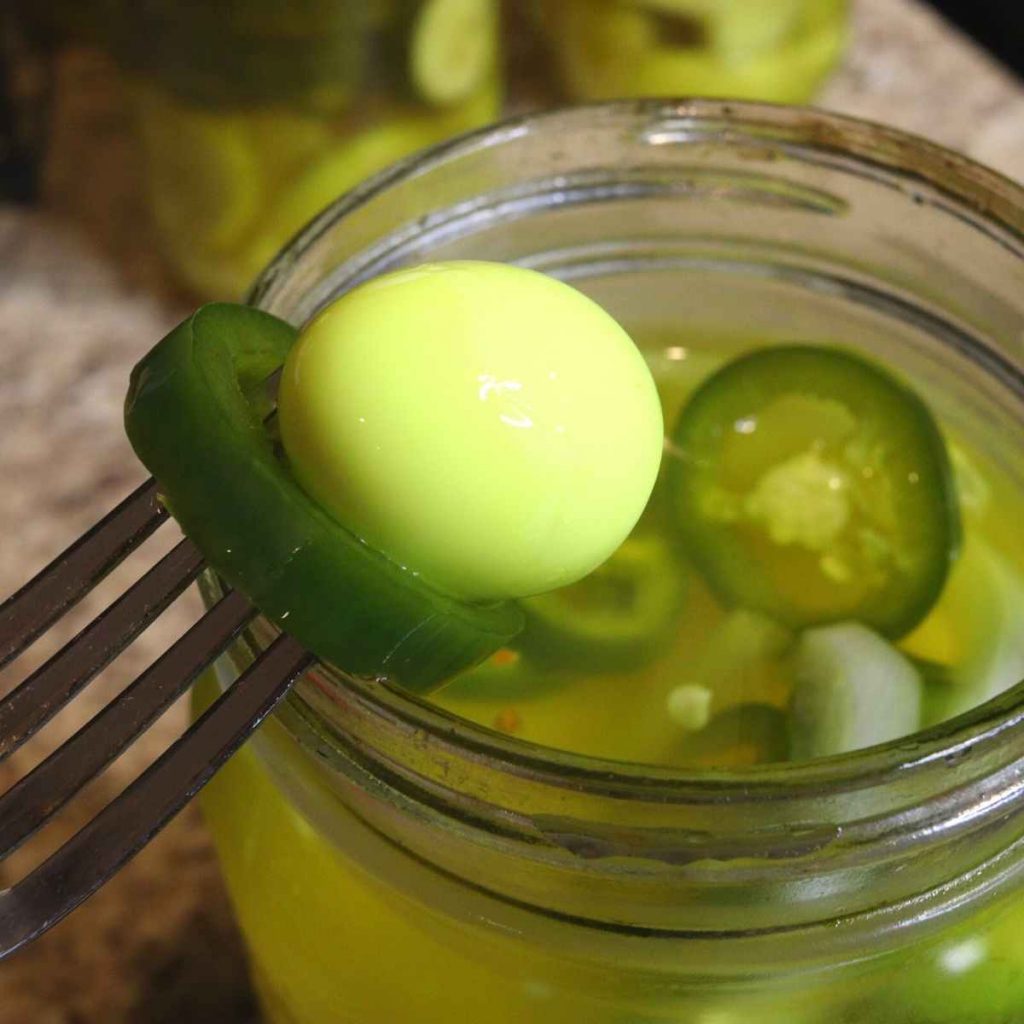 That's all there is to it! Just open the jar and take a few out whenever you're ready for a salty snack.
Let me know down in the comments your favorite way of preparing pickled eggs!
Check out the following pickled egg recipes for more inspiration!
Easy Spicy Pickled Quail Egg Recipe for Beginners – Humbly Rooted Home
Quick Pickled Eggs using Mrs. Wages
This easy recipe for pickled eggs is packed with flavor. Fresh jalapenos, onion, and garlic are all used to enhance the flavor of the packaged dill pickle brine.
Equipment
4 Quart Mason Jars

sterilized and warm

1 Large Pot

1 Ladle
Ingredients
4

dozen

small chicken eggs OR 12 dozen quail eggs

(each quart jar will hold approx. 3 dozen quail eggs or 1 dozen small chicken eggs)

1

package

Mrs. Wages Dill Pickling Solution

6.5 oz pkg

1

large

onion

1

ear

garlic

3

large jalapenos

can use more or less

7 1/3

cup

water

3 1/3

cup

5% distilled white vinegar
Notes
Prepare eggs by hard boiling them. Once cooled, peel and rinse under cold water to remove any remaining shell or debris.
Slice jalapeno and onion. Peel garlic. You will be adding these extra ingredients based on your personal taste. Feel free to omit or add extra.
Prepare pickling solution according to instructions on Mrs. Wages Quick Dill Pickling package. Only follow instructions for preparing the liquid, not for packing or processing.
Fill warm jars with a layer of peeled, boiled eggs, followed by several slices of onion, jalapeno and garlic. Repeat layer until jar is just about full (leave around an inch at the top).
Carefully ladle the hot pickling solution into the jars until all ingredients are fully submerged. Put on lid and store in fridge.
Quail eggs will take 2-3 days to absorb the liquid, while small chicken eggs may take a little longer.
Note Mrs. Wages pickling pack is made for pickles. Using this seasoning for eggs is outside of their recommendations and is why you should not follow the packaging/processing instructions on the package. 
If you have leftover brine, Mrs. Wages states you can store in fridge for 1 week or freeze for up to 3 months. It is not recommended to only prepare half of the package.
Save it for Later!
Shop This Post:
Here are links to the products mentioned in the post.
Amazon link are affiliate links – at no extra cost to you – I earn a small commission if you purchase through them.